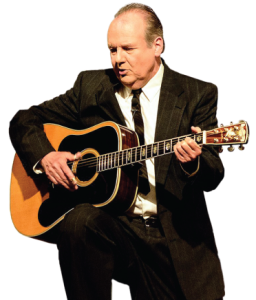 Award-winning actor and musician Gary Reid will perform, "A Life of Sorrow–The Life and Times of Carter Stanley" is a one-man play with music about a mountain music legend Thursday, October 19 from 6 to 7:30 p.m. Along with his brother, famed Appalachian mountain banjoist Ralph Stanley, Carter Stanley helped lay the foundations for what is today known as bluegrass music.
In this dramatic theatrical production of Carter Stanley's life, Reid becomes Carter Stanley. Reid is a storyteller, bluegrass veteran, and the foremost authority on the Stanley Brothers. Reid affords today's bluegrass and old-time music fans a chance to visit and reminisce with Carter Stanley.
Reid is a Roanoke-based bluegrass and old-time music professional with over 40+ years of music experience. He originally conceived the production of "A Life of Sorrow" in 2009. After five years of development, the one-man show was officially launched in September of 2014. Since that time, the show has enjoyed over 100 performances in 16 different states and three Canadian provinces.
The 70-minute performance touches on Stanley's childhood days on the family farm, the respect he had for old-time musicians that he knew and their influence on him, his jealousies and insecurities, his admiration for Bill Monroe, and the struggles with alcohol that eventually cut short his life at the age of 41 in 1966.
This performance affords today's audiences a chance to connect with a bluegrass treasure as "he" tells the story of his life in old-time mountain music. Spend an enjoyable evening with him as he brings to life events from the turbulent times of the "smoothest singer ever to come out of the Clinch Mountains."
~ Fincastle Herald staff report