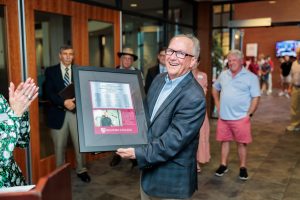 If retiring Roanoke College Athletic Director Scott Allison crosses your path, make sure you give him a little "Howdy do" and a smile. It's one of the reasons he's been here so long.
"I remember the first time I came to Salem to look at the school," said Allison, who retired at the end of June after a 34-year career as AD. "I'm walking across campus and a total stranger makes eye contact with me and says 'How are you doin?' That caught me totally by surprise and I still remember it. That wouldn't have happened in Baltimore."
Allison decided to come to RC to play soccer and lacrosse in the friendly valley in Southwest Virginia. And, like many who came south to attend the liberal arts college, it not only shaped his career but became his home.
"Heck no," replied Allison when asked if he thought he'd still be here 47 years after that first trip to the valley. "I expected I'd be here four years then I'd be back in Baltimore."
He almost didn't leave Crab Town. Scott grew up in Linthicum, Md., near the Baltimore-Washington International Airport. He was a two-sport standout at Andover High School in both soccer and lacrosse. He grew up playing baseball and rooting for the hometown Orioles and, in fact, he named his son, Brooks, after Hall of Fame Orioles third baseman Brooks Robinson. However, not making the school baseball team had a hand in his future at RC.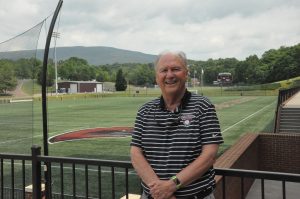 "If I had made the baseball team I never would have played lacrosse," he said. "I played jayvee basketball and missed the baseball tryouts. The coach gave me a one-day tryout for the baseball team, but he already had the team picked and I wasn't chosen."
With a little extra time on his hands Scott attended a three-week "introduction to lacrosse" program he heard about from Jon Appelt, an earth science teacher at school.
"I had a lot of fun with it," said Allison. "He heard I didn't make the baseball team and he handed me some gloves and arm pads and said he'd see me 'this afternoon.'"
While Scott enjoyed the old Native American game, soccer was his ticket. He was a standout player on the school team as a sophomore, then was named Anne Rundel County Player of the Year both his junior and senior seasons. He signed to play locally for the University of Baltimore, who had won the 1975 Division II national championship.
"That was where I wanted to go," said Allison. "When they played at home I didn't miss a game."
Scott was all set to play soccer and lacrosse for the Bees when he got an unexpected phone call from BU coach Dick Adell.
"I had signed to go there in January, and in February he called to tell me the school was discontinuing intercollegiate athletics," said Allison. "It was close to the end of my senior year and I wasn't sure what I was going to do at that point. I knew I had to go to college."
Roanoke College lacrosse coach Paul Griffin had Scott on a list of Baltimore prospects that Craig Schisler, who was a team manager at RC at the time, had provided. Allison reached out to Griffin to see if he was still interested.
"He said he never heard from me, so I was off the list," Scott said with a chuckle. "But I decided to come for a visit and I met soccer coach Scott Anderson, who drove me around the area and gave me a good prospective on the South. Salem didn't appear to be your stereotypical southern place. It looked like a livable place."
And so a 47-year love affair began. Scott went on to become captain of both the soccer and lacrosse teams and was a member of the 1978 national championship Maroon lax team. In soccer, Scott was the Jeffrey Childs Willis Award recipient as team Most Valuable Player his senior year and he was an All-Virginia Intercollegiate Soccer Association (VISA) selection for the 1975, '76, and '78 seasons. He was also named the school's Male Athlete of the Year his senior year. However, what was most important to him was that he was regarded as a great teammate and unselfish player in both sports, and that would serve him well in future endeavors.
"He ran on the same midfield with me and Doug Horn," said Salem's Joe Dishaw, another northern transplant who came to RC to play lacrosse and stayed. "I really enjoyed playing with him. He was a good player, and probably an even better soccer player. He was a good guy to have on a team."
The highlight of Scotty's lacrosse career is when he scored the tying goal in the fourth quarter of the 1978 lacrosse championship game against Hobart College in Geneva, N.Y., in front of over 13,000 screaming fans. Roanoke was trailing the defending champion Statesmen late in the fourth quarter, 13-12, when Allison scored off a clear.
"Hobart was known to play aggressively, but sometimes against a team with good sticks they would give up a layup," said Allison. "We had a clear and Richie Graham found a seam and cut to midfield and found me breaking to the crease. His pass was a little low but I was able to handle it and keep my balance and I had an easy shot."
And how did that feel?
"AWESOME," he said, still savoring the feeling after all these years.
Bob Rotanz, who owns Mac & Bob's Restaurant in Salem along with Dishaw, scored the winning goal on a trick play moments later and that's the one most folks remember. However, if not for Allison's goal Bob's score would have only tied the game instead of giving RC the 14-13 win.
"Scott played a very important role in our national championship game," said Rotanz. "I think he had two goals. The level of play an individual has in a lacrosse game is not always measured by goals and assists. Scott played a complete game that day under immense pressure."
When his playing career ended with graduation in the spring of 1979, Scott found himself needing a job.
"I went home for the summer and my mom said if I was still living at home in the fall I would have to pay rent," he recalled. "I got a job working at the Tecumseh Lacrosse Camp at Salisbury University, and that's when I fell in love with coaching. I started to look into jobs and had a choice between Washington College and the Naval Academy. I accepted the job at the Naval Academy but when I found out I had to go to boot camp I decided on Washington. I got $500 for the whole season and I was also working at the Chestertown Fire Equipment Company, where the boss was friends with the head coach."
Scott's next move was to Salisbury U., where he got his master's degree while serving as a graduate assistant in both soccer and lacrosse. A full-time job at the Naval Academy followed for two years, sans boot camp, where he was a lacrosse assistant for the 1982 and '83 seasons.
In the late spring of '83, Allison found out about an opening at Dartmouth College for a head lacrosse and soccer coach. Dartmouth is an Ivy League school in Hanover, N.H., more known for outstanding academics than outstanding athletics.
"I think I was one of only two people both qualified and interested," he said. "I had a good time there, but our lacrosse team struggled."
At the time the late John Pirro, who would posthumously be inducted into the national lacrosse Hall of Fame, was coaching both lacrosse and soccer at RC. John decided to leave the college and take a job in business after the '86 spring season, and Scott was a perfect choice to replace him.
"Again, I was one of the few qualified to do both," he said.
It wasn't a tough choice to leave the Ivy League and return to the Roanoke Valley, and he's been here ever since. He raised two children here with his first wife, Robin, and Brooks and Claire both graduated from Roanoke College. Claire now lives in Maryland and Brooks is a writer for Jimmy Fallon on The Tonight Show in New York. Scott married is current wife, Bonnie, in 2000.
Scott coached both soccer and lacrosse at RC for two seasons. Then, when Maroon athletic director and basketball coach Ed Green left to become AD at Coastal Carolina, Scott stepped down from the lacrosse position and accepted the job as athletic director. He remained soccer coach and continued to coach the sport at Roanoke through the 2012 season.
During his time on the sidelines, Allison led the Maroon soccer team to eight ODAC championships and six appearances in the NCAA Division III tournament.  For his efforts, he was named the ODAC Coach of the Year seven times and Virginia College Division Coach of the Year four times. Allison was also named the NSCAA Division III South Atlantic Regional Coach of the Year in both 1993 and 2012. He's a member of the college Athletic Hall of Fame.
When Scott decided to hang up the whistle and concentrate on his AD responsibilities, he didn't have to look far for a replacement. He was succeeded by Ryan Pflugrad, who played for the Maroon soccer team under Allison.
"Given the immense effect that he's had, it's actually very hard to find the specific words to describe the deep positive impact Coach Allison has had on his players and student athletes, our men's soccer program, the athletic department, and Roanoke College," said Pflugrad. "I am so fortunate to have had the opportunity to play for Coach Allison, have him as a mentor in my professional life, work under him at Roanoke College, and develop a meaningful relationship with him as a peer. He has had a remarkably profound impact on my life."
Allison has seen a lot in his years leading the department. He hired all the current head coaches except lacrosse coach Bill Pilat, and Bill was on his staff when Scott was coaching the lax team. During his tenure the school upgraded facilities with the Cregger Center, the Kerr-Cregger Fieldhouse and Kerr Stadium.
"Scott Allison is known for many accomplishments," said retired RC President Mike Maxey. "He innovated new programs. He guided our successful existing programs. He was the coach of the coaches at Roanoke. But most of all he was a leader of student athletics, of alumni, of the entire college. What a mark of Maroon he has made on his alma mater."
During Allison's tenure Roanoke College added eight intercollegiate sports that weren't there when he took the job in 1989. He's been popular with his coaches and easy to work with.
"Coach Allison was a big part of me going into coaching," said RC women's soccer coach Phil Benne. "He helped me get a grad assistant with his brother at Alfred and I was fortunate that he would take a chance in hiring a young coach at Roanoke. They talk about being a players' coach. Scott was a coaches' coach. He let you run your program and was always there for advice and help. I wish him the best in his next chapter."
Athletic trainer Jim Buriak preceded Allison on the staff at RC and was there for Scott's entire run as coach and AD before retiring himself last year.
"I was fortunate to work with Scott and serve the athletic department as an athletic trainer and NCAA Faculty Athletics representative," he said. "Scott trusted my judgement when dealing with athletic injuries and never questioned my decisions. He was open and receptive to discussing any concerns I had.
"As Faculty Athletics representative, I traveled with Scott to several NCAA Conventions. We discussed NCAA legislation, and he was willing to listen to my thoughts regarding voting matters. He always tried to do the right thing for both the student athletes and Roanoke College. He served the college well."
Old Dominion Athletic Conference Commissioner Brad Bankston has also worked closely with Allison. Salem, RC and the ODAC have hosted many NCAA events and championships over the years and Scott was always there to be a part of things.
"Scott has been a vital part of the ODAC's operations for a number of years," said Bankston. "He has served the board of directors in a leadership role twice during his tenure while providing valuable mentoring to a number of new Division III/ODAC directors of athletics. He has excelled in this profession due to his approach of always treating people with respect and dignity.
"Scott has been a resource for many during his time at Roanoke regardless of their role – student-athlete, coach, administrator or conference colleague. That includes me, a young inexperienced commissioner who he helped on numerous occasions during my 20 plus years with the conference. I know I speak for all the members of the BOD when I say he will be sorely missed."
Allison announced his pending retirement in November. In April, during Alumni Weekend, the foyer of the Cregger Center was named in his honor. Pflugrad was one of the speakers.
"As both a coach and athletic director, Coach A has prioritized care for student athletes and others," said Pflugrad. "The Roanoke Athletic Department and College as a whole has benefited tremendously from these values. It has allowed our student athletes and coaches to flourish, and programs to find success. Coach A bleeds Maroon! Because his service to the college is so vast, it's hard to picture a Roanoke College athletics department without him in it."
But alas, the Scott Allison era comes to an end with incoming AD Curtis Campbell taking over this week. With two weeks to go on the job Scott had still not cleaned out his office, or met the new AD. He was still dealing with responsibilities that many would have been glad to pass on to the next guy. The new football team is not one of them, as that will be Campbell's baby.
What was the hardest part of his job?
"Dealing with personnel," said Allison. "I've had to make some tough decisions, and bring people along to think as a Division III coach."
The most fun part?
"Being with our teams at ODAC or national tournaments," he said. "It's been fun to be around the kids and just be part of the ride. I've always enjoyed being around student athletes, and I tried to attend as many of the games as I could."
He won't be looking over any shoulders, but Scotty will still be around. He's made many friends during his time as AD, but the best friends are still the ones he bonded with on the field of competition. The 1978 lacrosse team still gathers for golf tournaments, alumni outings and special occasions like when Pirro was inducted into the Lacrosse Hall of Fame or when Rotanz went into the Virginia Hall of Fame in April. Although it's been 45 years it feels like yesterday when that group gets together.
"I've never taken any more pride in anything than the four years I was on that lacrosse team," he said. "I was never the one Griff (coach Paul Griffin) gave the ball to but I did my best to contribute. Those memories of my time on the field, and the teammates I played with, are one of the most special things in my life."
Rotanz remembers as well.
"Scott and I have remained friends since our Roanoke College days," he said. "In fact my senior year I was dating my wife Wendy and Scott was dating her roommate.  We did a lot of double dating.  We try to golf when we can and when we do we always wind up talking about retirement.  Well it finally has arrived for my dear friend and I can't be happier for him and Bonnie.  I have a feeling that he is going to beat me pretty bad in golf later on this summer when he is finally retired."
That time has come, as Scott contemplates the next chapter of his life. It's going to seem strange not seeing him around the gym when students return to school later this summer.
"It probably won't hit me until August," he said. "I usually take July off, anyway, so that won't seem any different. But when August comes around I won't have to worry about what needs to be done and what happens next.
"I'm looking forward to that," he added with a smile.
And if you see Scotty walking down the street, give him a little "Howdy Do." He's come to expect it after all these years.