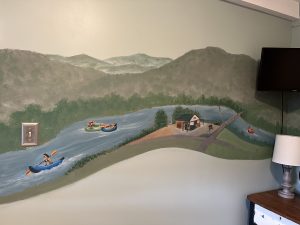 The Anchorage House Bed & Breakfast, in partnership with the Botetourt County Chamber of Commerce, will hold a ribbon-cutting event/open house this Saturday, September 23, at 19391 Main Street in Buchanan from 5-8 p.m. Catering will be provided by Tizzone's Wood-Fired Kitchen.
The name nods to the naval service of its historical owner, Commodore William Conway Whittle. The Anchorage House is a place where boaters, brides, tourists, and townspeople can all enjoy this renovated historical venue.
The home offers five bedrooms. Air-conditioned accommodations offer coffee/tea makers and hair dryers, while the kitchen offers refrigerators, stove tops, microwaves, and separate dining areas. Bathrooms include showers.
The Anchorage House offers a range of services within the bed and breakfast. Guests may rent a room or the entire upstairs to host weddings, private parties, and events as well.
For more information, call 540-425-5239, or visit anchoragehouse.org.
~ Fincastle Herald staff report