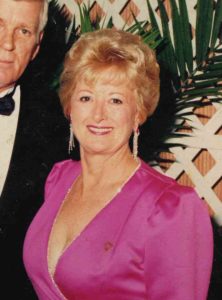 Shirley Mart Benson, 85, of Fincastle, passed away Wednesday, June 14, 2023.
She was preceded in death by her husband, Lawrence E. Benson Jr.; children, Lynyrd Franzen and Erin Gayle Franzen-Heitzmann; and grandson, Mark Allen Thompson II.
She is survived by her daughter, Sheri Joy Glandon; grandchildren, Michael S. Franzen, Christopher David (Chazzlynn Goodson) Glandon, Clyde (Rachelle) Thompson, Pandora Gazich, Sabrina Koenig, and Sean Franzen; great-grandchildren, Mikayla Dawn Franzen, Cayden Thompson, Christlynn Lou Glandon, Fabrynn Sarai Glandon, and Julius Thompson; sisters, Debby Mart and Judy Neeley; brothers, Lewis "Skippy" Mart and Gerald Mart; and numerous nieces and nephews.
It was Shirley's wishes that services be private; however, online condolences may be made at www.botetourtfuneralhome.com or 540-254-3000.