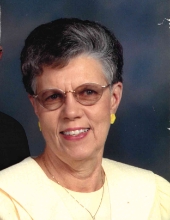 Shirley Craft Booze, 85, of Fincastle, passed away Tuesday, March 28, 2023.
Shirley was preceded in death by her parents, E.L. "Jim" and Mary Markham Craft; and brother, Robert "Sonny" Craft. She retired from the Botetourt County School System where she had worked at Central Academy as a cafeteria worker for over 32 years. Granny Shirley loved her "grandkids," Whitney and Brandon Bolton; her great-niece and -nephew, and enjoyed their time together after school.
Survivors include her husband of 63 years, Donald Robert Booze; sister and brother-in-law; Yvonne and Dennis Patrick of Roanoke; brothers and sisters-in-law, William Henry Craft of Appomattox, Collins "Denny" and Jean Craft of Fincastle, and Wayne and Darlene Craft of Fincastle; and numerous nieces and nephews.
The family received friends at Botetourt Funeral Home on Monday, April 3, 2023, from 5 to 7 p.m. where a short service was held at 7 p.m. A graveside service was held Tuesday, April 4, at 11 a.m. at Blue Ridge Memorial Gardens, Roanoke, with Pastor Kevin Cummings officiating. Those wishing to make a contribution, please consider the Fincastle Volunteer Fire Department, P.O. Box 432, Fincastle, 24090. Online condolences may be made at www.botetourtfuneralhome.com or 540-254-3000.