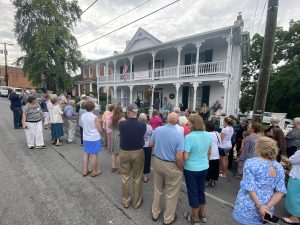 Beginning in 2023, the Botetourt County Museum will go by the name Botetourt Museum of History and Culture.  While the parent organization will remain, Botetourt County Historical Society, Inc., members of the board felt that the day-to-day title of the museum was more closely aligned with highlighting the overall history and culture of the county and voted to change the name during the November 2022 Board of Directors meeting, to become effective in early 2023.
The society will continue to maintain the current museum collection, provide educational outreach opportunities, research material, and exhibits to the public as it has done since its founding in 1966.
Anyone who has a current membership with the Botetourt County Historical Society, please know that nothing will change and that memberships will remain in effect as normal.
The society appreciates all the support from the community over the years and is looking forward to broadening the scope ofits mission.
~ Lynsey Crantz Allie, BCHS Executive Director