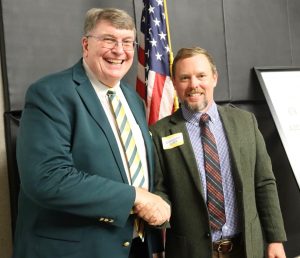 Botetourt County Historical Society, Inc. (BCHS) welcomed state underwater archaeologist, Brendan Burke, as the keynote speaker for its 15th annual Founder's Day Dinner on Oct. 20. Burke's topic was the Marshall Tunnel and the canal history of Botetourt.
Burke drew a sold-out crowd of over 130 guests to Fincastle United Methodist Church Family Life Center. His talk covered the origins of the canal system, but the highlight of the evening included photos of newly discovered parts of the Marshall Tunnel that had only been found mere weeks before Founder's Day and had only ever been seen by Department of Historic Resources' staff, prior to the event. Many of those guests in attendance that evening have lauded this year's Founder's Day as one of the best they've been to.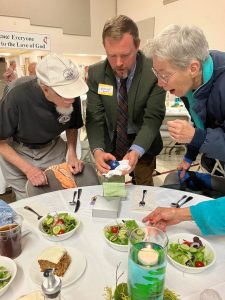 The Emily Gordon Honts Heritage Award was given to Jessie Stull-Burton and Bonnie Britt for their work and dedication to local history. The Garland Stevens Volunteer Service Award was presented to Botetourt Town & Country Women's Club for their work onsite at the museum and to Susan Martin, Meredith Bowman Shelton, Susan Hays, Cathy Cronise, and Lawton Kasey for their help in moving and cataloging artifacts from the previous location, as well as assisting in educational outreach.
The historical society offers its profuse gratitude to Brendan Burke and the Virginia Department of Historic Resources for being such a wonderful asset to those throughout the Commonwealth. BCHS also would like to thank FUMC for hosting and providing a delicious meal for our event for another year. A thank you also goes out to all of our corporate sponsors as well as our Founder's Day Patrons for continually supporting the Society and making Founder's Day such a success!  The program from the evening's event can be found on the BCHS website (bothistsoc.wordpress.com).
~ Botetourt County Historical Society, Inc.