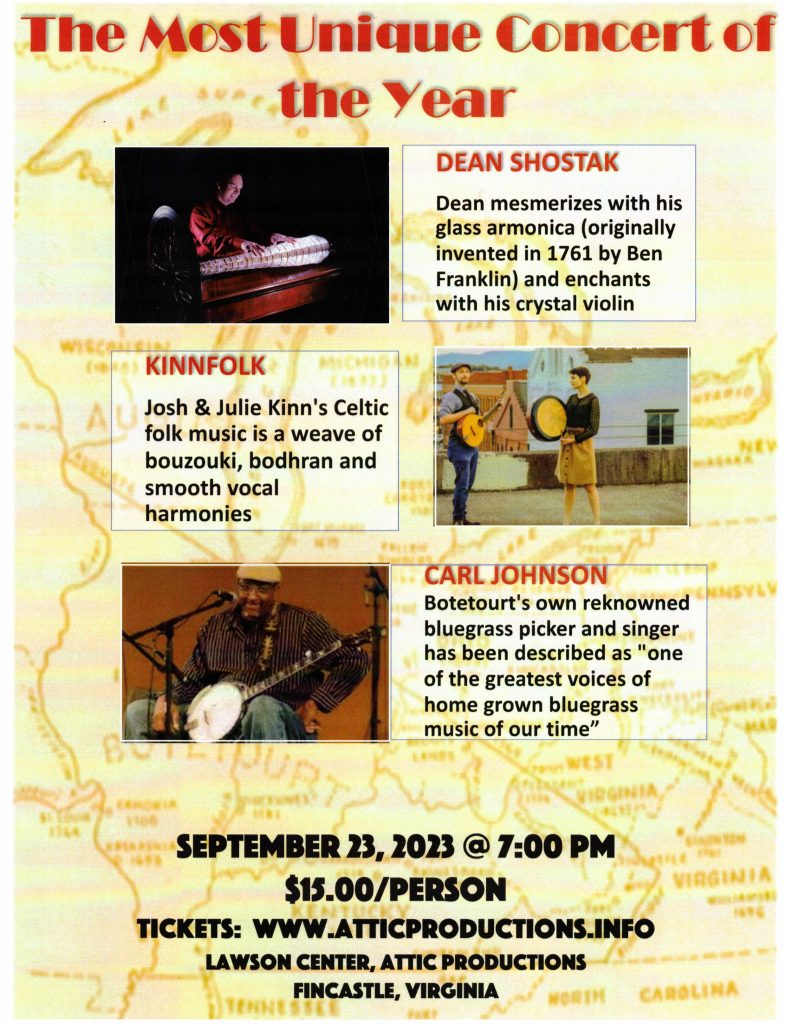 The Botetourt Preservation Partnership (BPP), a group of citizens, interest groups including representatives from Historic Fincastle, Inc., the Botetourt County Historical Society and the Museum, along with local government representatives, will present an evening of music dating back to Colonial times. "The Most Unique Concert of the Year," as they have titled the event, will feature three musical acts highlighting the sounds of the 18th century that may (and may not) have been heard when visiting Fincastle.
The concert takes place Sept. 23 at the Lawson Center of Attic Productions in Fincastle at 7 p.m.
One of the most unique acts performing at the event is from Dean Shostak who brings with him his glass armonica—an instrument originally invented by Benjamin Franklin in 1761—and a crystal violin.
Folk music act Kinnfolk plays a weave of bouzouki, bodhran, and smooth vocal harmonies. Josh and Julie Kinn have played at festivals and listening rooms throughout Virginia and beyond. 2022, Kinnfolk recently received a grant from the National Endowment of the Arts and the City of Roanoke to create a body of work exploring the history, geography, and folk legends of their town.
These acts will be joined by Botetourt bluegrass musician Carl Johnson, who has been described as "one of the greatest voices of homegrown bluegrass music of our time." Johnson is a renowned banjo picker and vocalist.
One BPP's main focuses for this concert is to allow residents to think about how people lived their lives during the periods of time when this music was popular. The organization will offer 50 complimentary tickets to music students in Botetourt who wish to attend this special night.
~ Fincastle Herald staff report