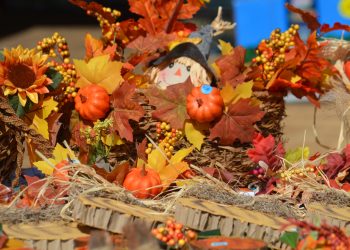 By Matt de Simone
The Town of Buchanan celebrated its 29th annual Mountain Magic in Fall festival at the town park over the weekend. Visitors made their way through the numerous vendors, classic cars, and delicious foods throughout the day.
Bluegrass bands took to the stage performing as visitor brought their lawnchairs to sit back and enjoy the tunes performed by Rebecca Bryant, Mill Creek Band, Barry & the Mudflaps, Blue Connection and the Virginia Carolina Band.
A classic auto and tractor show saw vehicles from the past and present on display. Community members weaved their way around Lowe Street, looking under the hoods and remembering the days when some of the vintage show cars roared down Botetourt roads.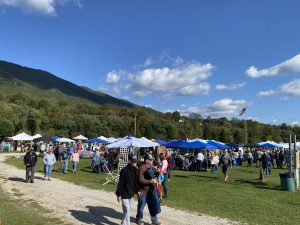 Vendors sold their wares that included handmade crafts and baked treats, fall and Christmas décor, and also ceramics, windchimes, and bird houses. Members of local community organizations were also present sharing information about their respective groups.
Some of the vendors on hand at the event included: Virginia State Parks, Mountain Thyme Honey & Gifts, Natural Bridge Ruritan's, Music for the Wind windchimes, Wild Haven Designs, Don Obenshain for Supervisor, This and That, Blue Ridge Barn Quilts, Moon Blosson Farm, Bibbiti Bobbiti Bostics, Glitz N Glamour, woof rafted benches and tables from local craftsmen, Pumpkin Roll Lady, Moonlight Mountain Designs, Buchanan Town Improvement Society, Buchanan Lions Club, The Fuller Picture Photography, The Salty Bee, Anna's Creations, Blue Ridge Essence, Bierer's Customs, Farm Fresh, Ann's Apple Butter, Nature's Designs, Homes for Heroes, Mountaineer Munchkins Homestead, Rustic House, R.W. Furman woodworking, Tellus Threads, Jovial Toad, Slimmtar Creations, NadsForte, Roanoke Valley Friends of the NRA, The Mossery, Nancy's Hidden Gems, M.D. Designs, The Bridge Christian Academy, Vintage By Design, Spring Branch Farm, Sillyheadz Hats, Criss Cross the Globe, Francis Family Farm, Natural Bridge Appalachian Trail Club, The Stags Path, author David Roberts, holiday wreaths, The Pampered Chef, Artsy Garmets, Simply Homemade, Ballard Soap Company, Things of the Spirit, Wildwood Workshop, Plum Creek Timberworx, Sirens & Salutes, Mill Mountain Copper and Kettle, VFW Post 5895, American Legion Post 93, The Best Place Antiques, Buchanan Presbyterian Church Food Pantry, CRAZY Creations, Mountain Valley Art, Walking Desserts, Heartlight Photography, Zwerge-Tomte handmade art by Andrea Curry, Virginia Mountain Mortgage, and food items from Sweet Surrender Ice Cream Co., Ferguson Family Provisions, Blue Ridge Apple Cider Doughnuts, and more.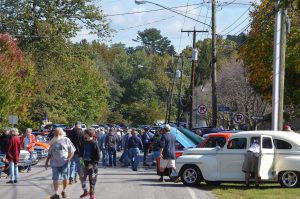 Buchanan will hold their Fall Town Cleanup on October 21 from 8 a.m. until 2 p.m. A dumpster will be available on the town parking lot at the Town Park on Lowe Street for Buchanan residents. Please bring proof of town residency (water or tax bill or driver's license). Each residence may bring two pickup truck loads, or, four car loads for free. Loads above that will be $5 per car load and $10 for a pickup truck load. For additional cleanup information please call the Town Hall, 540-254-1212. Note: Solomon's Mission accepts donations of gently used furniture, household items and clothing. (No TV's or Mattresses.) For info on donations to Solomon's Mission please call 540-520-0043.