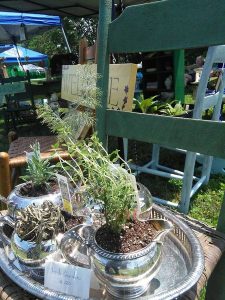 Spring is busting out all over Buchanan as flowers and trees explode with growth the Calendar of Events comes alive with the Buchanan Garden Festival this Saturday, May 6. Approximately 50 vendors will be set up on the Town Park behind the historic Wilson Warehouse/Community House.
Community Development Planner Harry Gleason noted, "A little bit of something for everyone the festival features the show and sale of annuals, perennials, trees, bird houses and garden whimsies, handmade crafts, jewelry, antiques, wind chimes, local and regional artists, as well as home and outdoor living vendors complementing the garden treasures you will find at the event."
Local non-profits will be adding to the day's activities while raising funds and awareness of the many charitable activities these groups perform throughout the county. Participating organizations include the Botetourt Beekeepers Association, the Roanoke Master Gardeners, the Botetourt Brawlers, Historic Fincastle, Solomon's Mission, the Buchanan Lions Club, as well as a local group of citizens hosting a bake sale fundraiser for 7-year-old Jepson Neil, recently diagnosed with Anaplastic Large Cell Lymphoma.
Additional activities include food vendors, a wine garden tasting featuring Virginia Mountain Vineyards of Fincastle, music with DJ Randy Riddle, a live performance from 11 a.m. until 3 p.m. featuring the Singing Cowgirl Rebecca Bryant, educational talks featuring guest speakers from Roanoke Master Gardener Program. The Master Gardener presentations include informative talks by Donna Haley at 11 a.m. entitled "Pollinators and Native Plants," followed by a seed starting demonstration by Jessica Miller at 1 p.m. wrapping up with a composting presentation by Jessica Miller at 2 p.m.
Artists are still being accepted for the Quick Draw Plein Air Paint Competition. Entrants will check in at 9 a.m. and paint until 12 noon. The work will be displayed under the show tent in the garden of the Historic Wilson Warehouse from 12:30 p.m. until 3:30 p.m. During this time, the public will vote for their favorite piece to win the People's Choice Award. Students from Buchanan Elementary School will also have an art display in the show tent for the public to view.
Friends of the Buchanan Library will be hosting the annual spring book and yard sale in the Carson Memorial Building on Main Street helping raise money for future library projects.
"Buchanan's Garden Festival provides an opportunity to get a last minute Mother's Day gift, learn about gardening techniques as well as the many civic organizations throughout the county while exploring more than 200 years of history as you walk, stroll, dine, shop and play in Buchanan," Gleason said.
~ Town of Buchanan