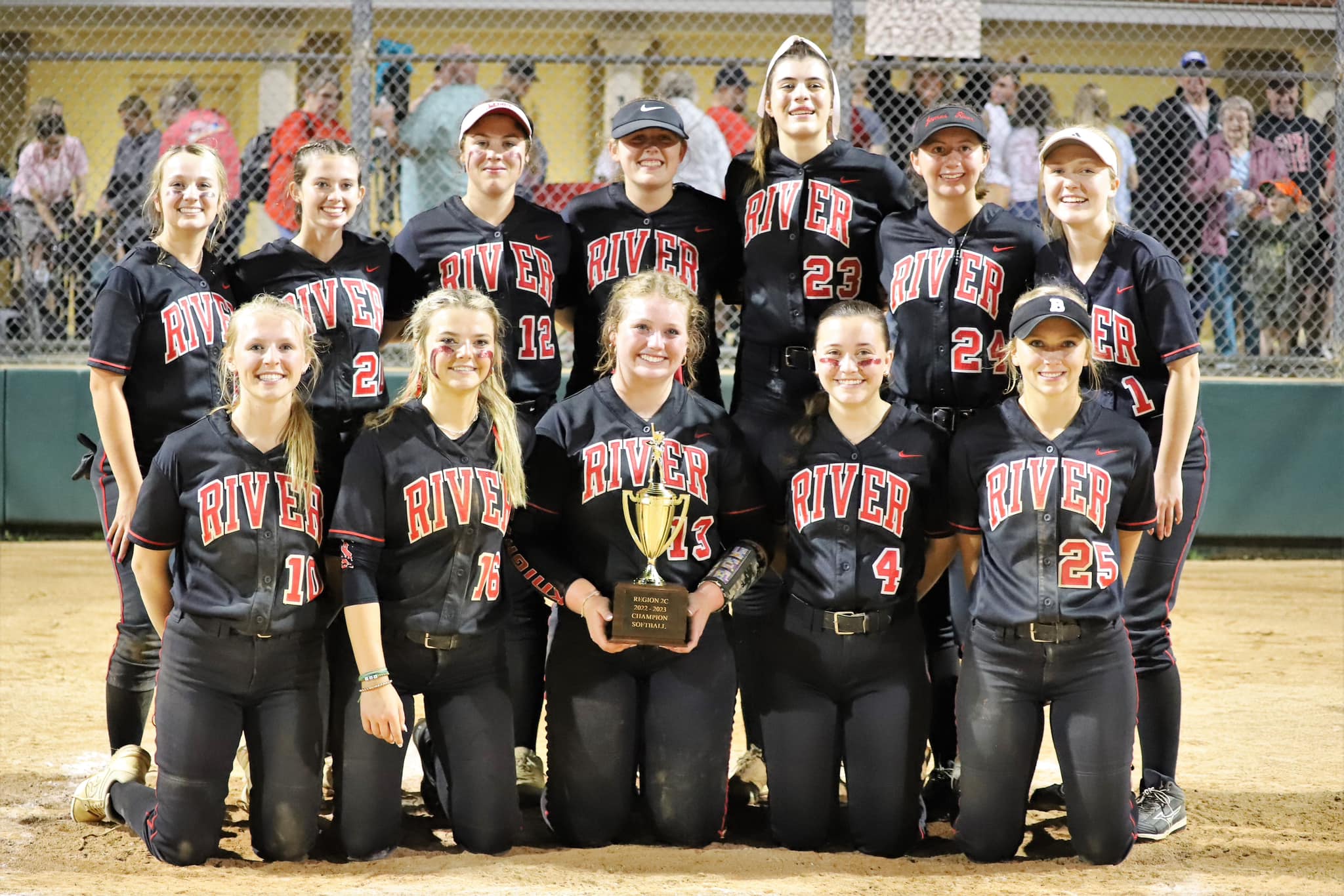 The Botetourt Sports Complex in Daleville will be the site of state championship tournaments for Virginia High School League softball teams in Class 1 & 2 this week. At press time, local James River High was hoping to be involved.
Quarterfinal games were at the sites of the four region champs on Tuesday of this week, but results were too late for publication. James River was scheduled to host John Battle in Springwood on Tuesday in a Class 2 quarterfinal game.
On Friday, Class 1 & 2 semifinals will be held at the complex at 10 a.m. and 1 p.m. State championship games are scheduled for Saturday, with the Class 1 championship at 10 a.m. and the Class 2 final at 1 p.m.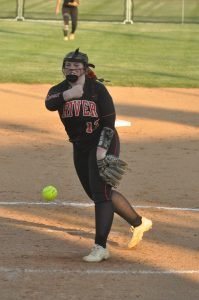 James River comes into the week as the top seed from Region 2C, meeting Region 3D runner-up John Battle. Tuesday's winner will play Saturday against the winner of a Tuesday game between Region 2A champ King William and Region 2B runner-up Strasburg. On the other side of the bracket were Tuesday games featuring Region 2B champ Page County hosting 2A runner-up Poquoson and 2D champ Tazewell entertaining 2C runner-up Appomattox.
If River ends up playing Appomattox in the final, be prepared to stay for awhile. Those two met in the Region 2C championship game at the Botetourt Sports Complex last Thursday and the game went 14 innings before it was decided, 13 of which were scoreless. It was what ESPN would call an "Instant Classic" with two teams who came in at 21-1 battling long into the night before River prevailed in the bottom of the 14th for a 1-0 win in a game that lasted over three and a half hours.
"What an honor to get to coach in what is surely one of the best regional tournament championship games in VHSL history," said River coach Steve Austin. "A real classic between the top two ranked teams in the region."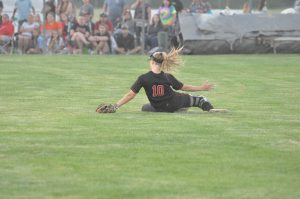 Knights pitcher Austyn Moran, brilliant all night on the mound, hit a walk-off single up the middle scoring Jenna Pugh in the bottom of the 14th for the 1-0 victory. The winners dog piled at first base as the Knights secured their first regional title since 2012.
The game was completely controlled by pitching and defense until that time. Raider pitchers Paisley Mann and Bree Carrico combined for 18 strikeouts with only two walks and five hits allowed, all singles. Moran scattered eight hits, striking out 12 and walking only one.
The game had 98 at bats with only 13 combined hits, three walks and only four errors, two on each team. The best scoring chances for Appomattox came in the fifth, 11th, and 12th innings.
In the fifth inning, Mya Kelso hit a long lead off double the left center. With one out, Carrington Moore hit a hard single to centerfield and Kelso was held at third base. Moran coaxed Kenly Booth to pop to second and Moran struck out Emily Purcell. In the 11th frame, two out hits by Haleigh Tweedy and Mann were wasted as Kelso flew to center.
Perhaps the Raiders' best chance was squandered in the 12th inning. Once again after two quick outs, Booth and Purcell had singles. Lead off hitter Bailey Hamilton walked, loading the bases. Moran battled back from a 3-0 count on Aubrey Fulcher to get a hard grounder to shortstop, where Lexi McCullogh threw Fulcher out at first base.
The Knights best scoring chance before the 14th came in the 11th inning. With two outs, Jenna Pugh beat out a swinging bunt, then stole second base and advanced to third on the errant throw. McCullough put down a safety squeeze but the bunt bounced up and hit McCullough in fair territory for the third out.
In the 14th, Pugh led off with a walk on a 3-2 pitch that was just low and inside. McCullough sacrificed her to second base and Elly Lackey singled hard to centerfield where Fulcher was shallow and quickly threw a strike to the catcher, forcing Pugh to hold at third. Moran followed by drilling a 1-2 pitch to centerfield for the walk-off hit.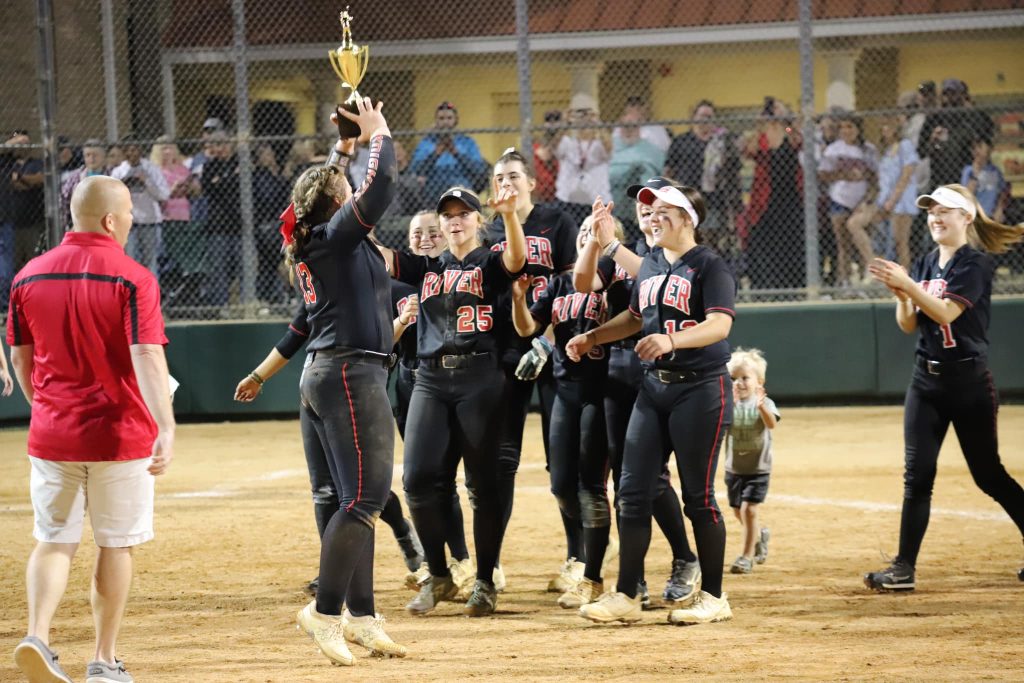 That Moran would get the game-winning hit was poetic justice. She pitched all 14 innings, throwing 173 pitches after throwing 89 pitches less than 24 hours earlier in the Knights' semi-final win over Patrick County. That win, a 7-1 victory, clinched a spot in the state tournament and the win over Appomattox gave River a home game in this week's state quarterfinal.
"Two outstanding pitchers, from Appomattox and Austyn for us, were locked in and controlling the game," said coach Austin. "Both defenses were excellent, especially with the pressure they were playing under, but Austyn going the entire way and getting stronger at the end is just amazing. She cemented herself as the best player in the region, in my opinion."
Moran had already been named the Three Rivers District Player of the Year last week, and coach Austin is the 3RD Coach of the Year. Joining Austyn on the first team were Kaycee Kincaid, Ripley Barry, Elly Lackey and Jenna Pugh. Second team selections were Cloey Joynes, Lexi McCullough and Sydnee Breeding, giving River eight spots total.
The Knights come into the state tournament with a 22-1 overall record. Their only loss was to Class 3 Carroll County, a team they beat the second time around.