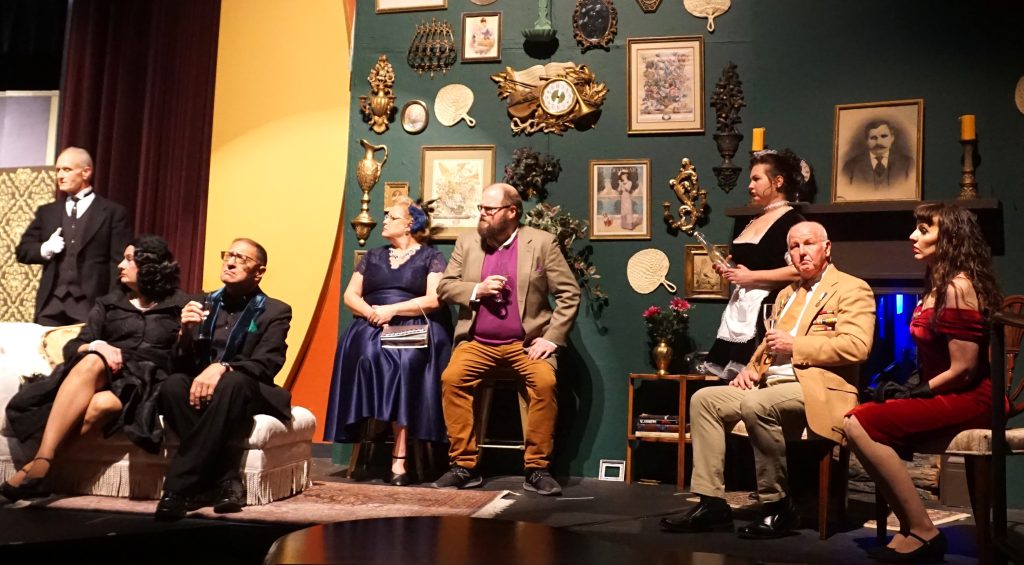 "Clue On Stage," based on a screenplay by Johnathan Lynn, with script by Sandy Rustin, continues this week on the Attic Productions' stage. This show will be presented at Attic's D. Geraldine Lawson Performing Arts Center, 7490 Roanoke Road, Fincastle, October 19-22. Thursday and Friday shows begin at 7:30 p.m., Saturday and Sunday matinees begin at 2:30 p.m.
A legendary murder mystery takes the stage in "Clue On Stage" with a cast of talented actors, state-of-the-art set design and special effects, and a captivating story that will leave you on the edge of your seat. Join the cast on a journey of intrigue and suspense, where you'll have to uncover the truth about the murder and try to solve the case before the night is over –  with a chance to win prizes. Get experience the thrill of playing detective.
Based on the iconic 1985 Paramount movie which was inspired by the classic Hasbro board game, "Clue" is a hilarious farce-meets-murder mystery. The tale begins at a remote mansion, where six mysterious guests assemble for an unusual dinner party with murder and blackmail on the menu. When someone turns up dead, they all become suspects. Led by Wadsworth – the butler, Miss Scarlett, Professor Plum, Mrs. White, Mr. Green, Mrs. Peacock and Colonel Mustard race to find the killer as the body count stacks up. "Clue" is the comedy whodunit that will leave both cult-fans and newcomers in stitches as they try to figure out…who did it, where, and with what!
Adult tickets are $15, students and groups of 10 or more are $12 when paid in cash or by check at the box office. A $2 convenience fee per ticket will be added if paying with a card.
Tickets may now be purchased on the Attic Productions website by visiting www.atticproductions.info. For questions or assistance with purchasing tickets call the box office at 540-473-1001. Volunteers are staffing the box office on Mondays and Wednesdays from 3 to 7 p.m. and Saturdays from 10 a.m. until 2 p.m. Leave a message at other times and your call will be returned as soon as possible.
This show is produced by special arrangement with the Araca Group, Work Light Productions, and Michael Bana/Lively McCabe Entertainment. Partial funding support comes from the Virginia Commission for the Arts and the National Endowment for the Arts.
~ Attic Productions