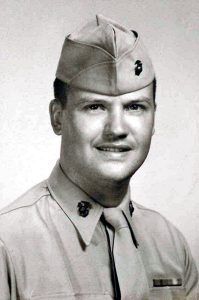 Robert "Bob" Daniel Cox, 91, of Daleville passed from us on Wednesday, August 16, 2023.
Bob was born in Wilcoe, W.Va., on August 25, 1931, son of AJ Cox and Emma nee Presley. Bob was raised in the coalfields of SW Virginia and southern West Virginia with 15 siblings and half-siblings. Bob married his wife for life, Pat, in high school and they both graduated in 1951. Bob went to work in the coal mines, but quickly tired of the darkness. He eagerly drafted into the U.S. Marine Corps with the outbreak of the Korean War rising to the rank of Staff Sergeant. A natural math whiz and an excellent fit for the military, he first served on active duty attached to reserve units in the upper Midwest. Bob was encouraged by his superiors to apply for Warrant Officer training. He was accepted into this rigorous program, graduated Officer Candidate School in 1961, and was assigned to train as a Naval Aviation Officer.
He went into military aviation as the military's experimentation with jet engines and jet aircraft were at an apex. He was assigned as a Radar Intercept Officer (RIO) in the early days of the F4 Phantom program and was home based out of MCAS Cherry Point, N.C. Later, he became part of the initial stand up of the A6, Intruder aircraft in the Marine Corps while a Bombardier/Navigator (B/N).  He exercised across the country, afloat, and in Asia, where he was a member of the first Marine Corps aviation unit stationed at Da Nang, Republic of South Vietnam. He served two tours of duty there, and, in addition to many other awards, earned 18 Air Medals, and a Commendation Medal for valor. He retired from the Marine Corps in 1974 having served in the ranks of Chief Warrant Officer 4, the highest warrant rank at that time, and Captain.
Bob returned to his much-loved mountains of Virginia with his wife Pat, and worked for 15 years at the Salem General Electric plant as a production floor supervisor.  Bob and Pat raised three sons, Robert "Danny" D. Cox, Jr. (deceased), Randy D. Cox (deceased), and Jody D. Cox, 61.  Bob was saved and an active member of the Baptist Churches of Rainbow Forest and Fincastle.
Bob was the last of his brothers and sisters. He lived and thrived through the Great Depression, WWII, the Korean War, Vietnam, and more. He and those like him are quickly leaving us. Treasure them. When they're gone, we'll not see the like of this generation again. We have much to learn from them, and thanks to their example, much to emulate and aspire to.
Bob is survived by Pat and Jody; by six grandchildren (RJ, Katrina, Sarah, Travis, Jacob, and Taylor); 10 great-grandchildren; and his sister-in-law and her husband, Judy and Darrell Guthrie.
A service with full military honors celebrating Bob's memory and service to his country will be held at 11:30 a.m. Friday, August 25 at Rader Funeral Home, 630 Roanoke Road, Daleville with Pastor Doug Sweeney officiating.  A private burial will take place at Grandview Memory Gardens in Bluefield, Va. Bob's family will receive friends one hour prior to the service Saturday.
The family asks that in lieu of flowers, donations may be made to Rick Via World Reach Partnerships, P.O. Box 582, Blue Ridge, 24064; or visit https://www.wrpartners.org to learn more.
Online condolences may be offered and the service live stream may be found at www.rader-funeralhome.com/tributes/Robert-Cox.