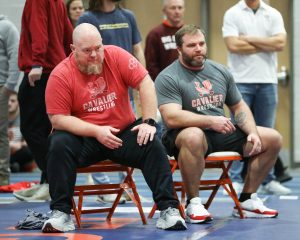 The Lord Botetourt wrestling team will have a new coach this season, but it's certainly not a new face at the Daleville school. Paul Craft is a 1999 graduate of LB and he's assisted retiring coach Chuck Burton for the past two years.
Craft is a guidance counselor at Lord Botetourt High School, and he's excited to take the reins at a program that has meant a lot to him over the years. And he's had no trouble finding his way around the school.
"It's pretty cool," he said about working at the same place where he went to school. "Walking through the halls, sometimes I get flashbacks about things that happened when I was a student. Memories just pop up. This place really feels like home."
The wrestling job opened when Burton decided to step down after 10 years as coach at LB. Chuck had coached wrestling for 23 years, with 12 years at Tazewell High and one at Read Mountain before taking over at Lord Botetourt.
"It was the right time," he said. "Our team competed well and I feel like I left it in a better place. We were runner-ups in the region the previous two seasons, back-to-back Big Orange champs and Titan Toughman champs last season. We had one state champion, JT Turner, and several regional champs, regional and state place winners.
"The thing I'm most proud of is that we produced many quality young men that are out in the world today being great leaders, husbands, workers, etc. Several are back in the area helping in various capacities in the sport, while several others will eventually do so."
For the past two years Chuck has been mentoring Craft to replace him. Paul volunteered during the 2021-22 season, then became a paid assistant this past year. Prior to that he coached seven years at Central Academy, then five at Read Mountain before joining the high school staff. So, he's known the kids who were rising into the high school program.
"That was one of the things that made the transition easy," he said. "I coached football (with Burton) and track at Read Mountain and had a good relationship with the kids and parents."
Paul's roots in the LB wrestling program go way back. He started wrestling in middle school under coach Rod Corl. In high school he wrestled for Tater Benson, who is a member of the Lord Botetourt and Roanoke Valley Wrestling Hall of Fames. Paul credits Benson for a lot of his views on the sport.
"Absolutely," he said. "My teammates and I watched everything he did, the way he carried himself and the way he ran practices. We were high school kids and he was a larger than life persona, that's what we thought of him.
"He would get us in practice and whip us into a frenzy," Craft continued. "We thought we could beat anyone when we stepped on that mat, he gave us that kind of confidence. I still teach a lot of stuff I learned from him."
As a high school wrestler Craft was Blue Ridge District champ several times when you had to qualify for the region through the district. There were only three Virginia High School League classifications at the time, as opposed to six now, so the competition was keen. Paul was able to qualify for the state three years, but injuries took their toll.
"My senior year I tore my ACL (knee ligament) the first couple weeks of the wrestling season," he said. "I had surgery on December 27, 1998, and I was back in a month. Looking back, that was too soon, and I caused some long-term damage."
Paul was also a standout football player at Lord Botetourt, playing for Andy Ward and then Tony Hart. He went to Emory & Henry to play football but reinjured his knee his sophomore year and that ended his athletic career as a player.
"The doctor said I was likely to keep on injuring it and he recommended I stop playing contact sports," said Craft. "I got my degree but one of my big regrets is what I could have done if I had not been injured. I felt like I left something on the table."
The competitive juices still flowed in Craft and led him to coaching, and eventually his current position as the new head at Lord Botetourt. He served as head boys track coach for the Cavaliers this spring but is stepping down from that to concentrate on wrestling.
Paul will be married to his wife, Christy, for nine years this September. He has three grown step-children who all graduated from Liberty University and Paul received his Master's Degree from Liberty as well.
"We don't have any little kids around, and that's important because Christy knows I'll be away a lot during wrestling season," he said. "She's always been very supportive."
As far assistants, Danny Thomas and Mark Mast will be volunteer assistants on the staff and Craft has a paid assistant lined up but can't announce who it is until he informs his current employer he's leaving. And, of course, Burton will always be around for advice if Paul seeks it.
"I've learned a ton from Chuck," he said. "The last couple years he's really opened my eyes as to what a head coach does, with paperwork and all that. He's been a tremendous teacher for me."
Burton somewhat hand-picked Paul as his successor and is confident he'll do a great job and continue to lead the storied LB wrestling program to more success.
"Paul is an excellent choice to take the helm," said Burton. "Paul wrestled at LB, works at LB now, and really wanted to be the next head coach. He has earned the right with the time he has put in coaching various middle school sports. He is a great leader, motivator, and kids love having him in their corner. He will put his mark on the program and I have no doubts he will do well."
At that, Paul realizes he still has a lot to learn. He learned that from Chuck as well.
"He told me any time you think you have everything figured out, that's the exact time you made a mistake," said Craft.