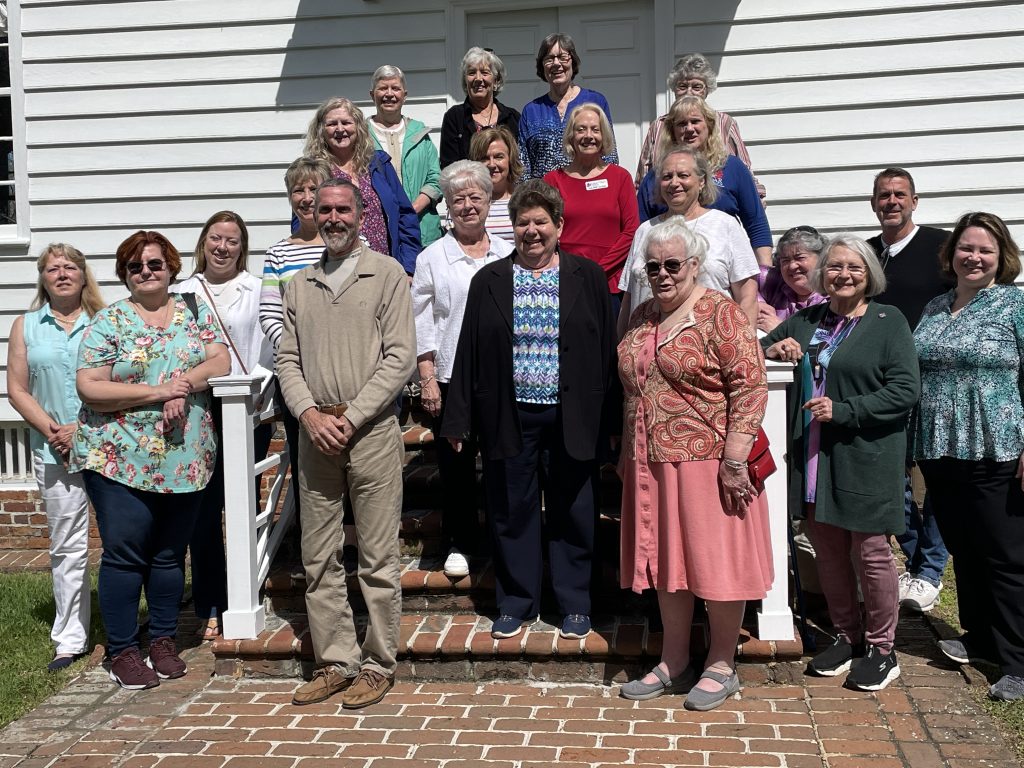 Members and guests of the Botetourt County Chapter Daughters of the American Revolution toured the historic home and grounds of Smithfield Plantation on the Virginia Tech campus in Blacksburg on April 15.
Built from 1772 to 1774 by Colonel William Preston, the plantation house was his residence and the headquarters of his farm. The Colonial-style home was based on homes in Williamsburg, and it stands as a fine example of an original pre-Revolutionary structure in Southwest Virginia.
The DAR group was divided into two tour groups, one led by Michael Hudson, the executive director, and the second by Jessica Vance, the Visitor Experiences manager. In addition to touring the home and the grounds, members were able to visit the Preston Family Cemetery where William Preston, his wife Susanna Smith Preston, and many other members of the Preston family are buried.
The rooms of the house are furnished with 18th and 19th century furniture, portraits and other items, while the basement level museum contains a variety of artifacts found on site. The landscape includes an 18th century kitchen garden tended by volunteers.
This historic property linked the great wilderness to the heart of the American Revolution and helped to form a new nation. Many prominent Americans descended from Preston and his wife Susanna, for whom the plantation is named. They were parents, grandparents, or ancestors to governors, senators, presidential cabinet members, university founders, university presidents, and military leaders.
Education was important to Preston and his family, and he played an important role in the Southwest Virginia frontier where he was a surveyor, justice of the peace and landowner. For 10 years prior to building Smithfield, Colonel Preston lived in Greenfield Plantation in Botetourt County. At his death the Greenfield property was inherited by John, his eldest son, while his wife inherited the Smithfield property.
As the nation is preparing to celebrate America 250, the DAR chapter encourages everyone to learn more about Virginia's history during the Revolutionary time period as well as the lives, histories, sites, stories and communities of the citizens in the Revolutionary time period.
Anyone interested or has questions about joining the chapter may contact Membership Chair Emily Talbot-Guillote via email at eptg1019@gmail.com or Regent Betty Holt, betty4658@gmail.com.
~ Botetourt County DAR