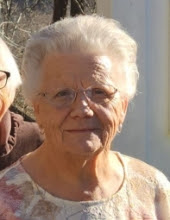 Edith Faye Wilcher Dudley, 80, of Eagle Rock, passed away Friday, March 24, 2023. She was preceded in death by her husband, C. Dickie Dudley; parents, James and Hester Wilcher; and brothers, John Sloan and Emmett Sumner.
She is survived by her special kids, Kathy Britt and McKenzie Baker; Scottie and Brodie Britt; sister, Lisa Bennington; numerous nieces, nephews, cousins, and friends.
Edith was a friendly face for many years at Hill Top, Sunset Market, and Kelly's Market serving food and giving laughs and smiles.
Funeral Services were held at 11 a.m. Monday, March 27, 2023 in the Buchanan Chapel of Botetourt Funeral Home with the Rev. Zachery Hatcher and the Rev. Dreama Osborne officiating. Interment was in Mount Bethel Church of the Brethren Cemetery. The family received friends from 5-7 p.m. Sunday at Botetourt Funeral Home, Buchanan. Online condolences may be made at www.botetourtfuneralhome.com or 540-254-3000.