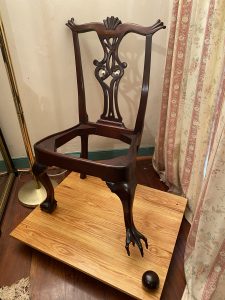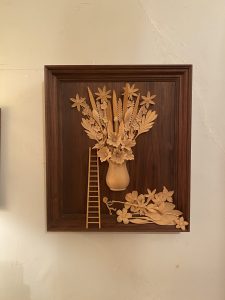 By Matt de Simone
One of the most playfully quaint businesses in Botetourt belongs to furniture maker Jake Cress, who crafts his own interpretations of classical furniture adding a dash of humor in various pieces.
Cress, a Navy veteran, began his woodworking business with his brother Joe in Abington in 1974. He later purchased a mill in Springwood that he and his late wife, Phebe, turned into their home. Then, Phoebe saw the house located at 110 S. Roanoke Street in Fincastle, and decided she didn't want to live in a mill anymore, according to Cress. The Fincastle home, built in 1856, also features the "Artistry in Wood" gallery on the lower level displaying various pieces of Cress & Son's whimsical woodwork.
His inspiration to design these "animated" pieces of furniture began when he visited an art show featuring art from woodworker Wendall Castle, when Jake and Phebe ended up in a studio furniture gallery in Washington, D.C.
"It was mind blowing– it was just absolutely wonderful stuff," Cress recalled. "It was in the winter time… I noticed that someone has left their car keys and gloves on one of the tables and noticed, oh, it's carved into the table. It was that convincing. He took himself very seriously, which was reflected in the price of these pieces. I thought, 'Well, I don't take myself very seriously and I would like to make something that would delight people and not cost so much.'"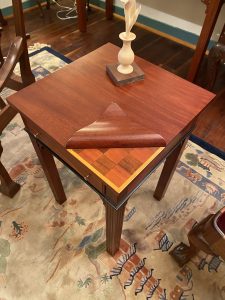 After visiting the Castle gallery, Cress thought about an old table he had in his shop at the time that was sent in for repair. One of the legs of the table was deteriorating, so he crafted a "crutch" as a clever replacement. Happy with the piece, Cress called a friend of his to come by and take a look at it. His friend suffered from Polio as a kid and got a kick out of it. That table went on to inspire Cress creating more whimsical designs that would eventually find their way into galleries as well.
Cress's Fincastle gallery houses several pieces of studio furniture and art. One example is a wood table found in the gallery which Cress titled "Peel Here." It contains a feature where a corner of the tabletop is "peeled" back revealing a chessboard design underneath.
When asked about where the inspiration for the table came from, Cress answered, "Bologna. As a matter of fact, I was having a bologna sandwich, looked at the package of bologna and it said, 'PEEL HERE.' So, I did, and I said (to myself), 'Ah ha!'"
Cress craftmanship has been featured predominantly in galleries along the East Coast. Most notably is in the Renwick Gallery of the Smithsonian American Art Museum in Washington, D.C. where his studio furniture piece "Oops," a ball claw chair come to life and reaching for one of its balls that has rolled out of reach, has become a part of the gallery's permanent collection. "Hickory Dickory Clock," a grandfather clock based on the nursery rhyme that has a wavy, warped to look to the framing, stretched its way to the Midwest and was acquired by the Indianapolis Children's Museum in 2000.
Cress has a creative mind that is driven by what he sees going on in world. He explained, "You know what fuels (my creativity), besides having a warped sense of humor? All of the tragedies that are happening in the world… I get in the shop and try to make something beautiful to counteract all of the ugliness going on."
His positive attitude when crafting is shown through the many fantastic pieces on display in his gallery. Recently, Cress has begun crafting flowers featuring butterflies from wood. Some flowers are peace lilies, and some, Cress said, he "just made up."
That said, the clever furniture designs of Jake Cress are no bologna.
To learn more about Jake Cress's "Artistry in Wood," visit jakecress.com. Anyone interested in stopping by the gallery may do so by calling 540-473-2974 to schedule a visit.