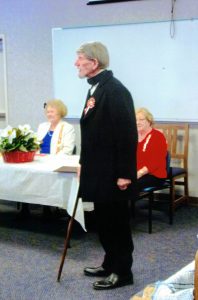 The Fincastle Chapter of the United Daughters of the Confederacy welcomed many distinguished guests and visitors to the regular monthly meeting on April 1. The meeting featured a presentation by Sam Winkler, a living history interpreter who portrayed President Jefferson Davis.
Winkler's presentation included Davis's life history, marriage, government service in the Civil War and his imprisonment. The UDC was pleased to offer this important history.
Winkler lives in Roanoke and has been doing historical portrayals over the years. On Wednesdays during the season, he portrays Wilson Hix, owner of the Cloverhill Tavern at Appomattox Courthouse. The tavern was where all the parole passes were printed. Winkler gives several talks throughout the day. He also does several other portrayals. He believes that history must be taught.
~ Submitted by Chapter President Harriett Frances and Historian Dana Long