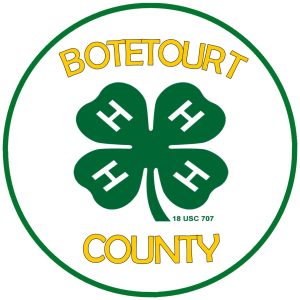 Botetourt County 4-H has enjoyed a busy summer, after concluding a successful year of school programs. Junior 4-H Camp was held during the week of June 12-16 at the W.E. Skelton 4-H Education Center at Smith Mountain Lake. Nearly 125 total participants included campers, teen volunteers, and adult volunteers. Campers had a fun and exciting time experiencing new activities while learning new life skills.
The 4-H clubs have been extremely active during the summer months with several clubs participating in competitions, club meetings, and camping opportunities. We are looking forward to the Botetourt County Fair on August 11 and 12, where they will have club displays with interactive activities and the poultry and livestock shows that members of the livestock club will participate in. Additionally, 4-H Agent Tyler Painter, assisted with the annual Youth with Character Academy that allows rising sixth grade students to engage in hands-on educational sessions associated with Character Counts!
Finally, 4-H is gearing up for an exciting school year to continue in-school programming in elementary, middle, and high schools. For more information on the Botetourt County 4-H Program, call Tyler Painter at 540-928-3210.
~ Tyler Painter, Botetourt 4-H Extension Agent