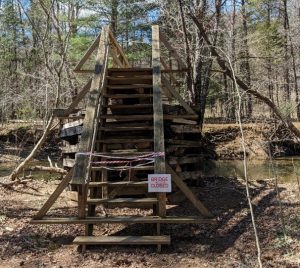 The George Washington and Jefferson National Forest is closing the Craig Creek bridge on the Appalachian National Scenic Trail for public safety. The footbridge that crosses Craig Creek, in the Brush Mountain Wilderness in Craig County, is closed to all use indefinitely.
Hikers should not use the existing bridge and should follow directions from posted signs. Appalachian Trail hikers can walk through Craig Creek within 100 yards of the bridge, utilizing a temporary detour. Creek crossing may be impassable or unsafe during high water. During high water events, hikers should wait for water levels to recede or utilize road detours.
Hikers are advised to plan accordingly.
Plans to remove and replace this bridge are ongoing.