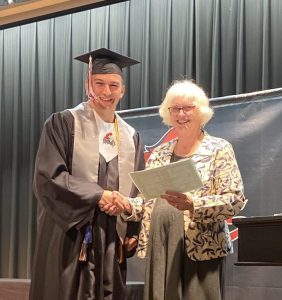 In 1772, Israel Christian, a landowner and merchant of Botetourt County, donated 45 acres of land to establish the town of Fincastle that would eventually become the county seat of Fincastle.
In 1968, Historic Fincastle, Inc, a non-profit organization devoted to protecting and preserving the historic town of Fincastle, was established.
In 1999, the HFI Scholarship Program began to help a graduating student from James River High School and Lord Botetourt High School who plan on continuing his/her education in Virginia. The first Elizabeth and Israel Christian Scholarship was awarded. This $1,000 scholarship is awarded yearly based on an essay on a given historical research topic. This year, the students were to research the "Old Jail" building describing its history.  They were also asked if he/she were to renovate the building, what would he/she suggest for the interior.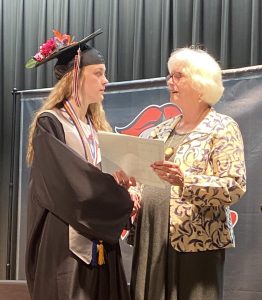 The winner from James River High School for the 2023 Elizabeth and Christian Scholarship is Andrew Fowler. He is the son of Amy Alphin and David Fowler in Buchanan and plans to study civil engineering next fall.
In 2016, the first Pat Simmons and Sally Eads Volunteer Scholarship was established. This $500 scholarship is based on the number of hours of volunteering to give back to the community and an essay explaining how this has impacted the student's life. Macy Williams from James River High School was awarded the Pat Simmons and Sally Eads 2023 scholarship. She is the daughter of Barry and Melissa Williams and plans to attend Mountain Gateway Community College in the fall.
Historic Fincastle, Inc. would like to thank all the students who sent in an application and would like to thank the scholarship committee who read the applications and made the decisions about the winners. (There were no applicants from Lord Botetourt High School this year.)