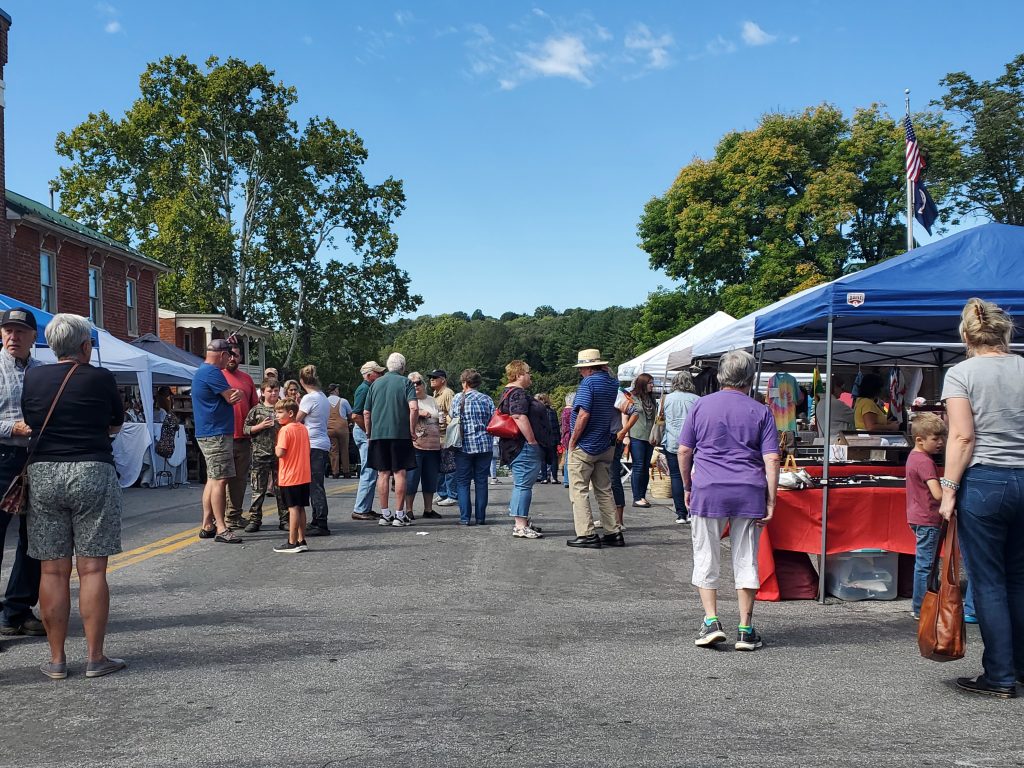 Are you ready for some great music, yummy food, and more than 50 vendors?  This year's Historic Fincastle Festival will have basically the same footprint as it did last year.  Fun will be happening from the library on Academy Street,  up Roanoke Street to the Court House, down Main Stret to the Quilt Show at the old Baptist church, and then from Roanoke Street all the way down Murray Street to the Early Cabin.
If you've been following the earlier articles about the quilts, the history, and the music, you already know there are good things happening.  Now add to that artists and crafters, multiple food vendor options throughout the streets, Little Critters Petting Zoo and Pony Rides, the amazing Revolutionary War Interpreters demonstrating 18th century living and fighting and descendants of the native Monacan tribes who were here long before any Europeans even knew the earth was round, and you can expect some major fun!
The festival will run from 9 a.m. until 4 p.m. with free parking and free shuttle service around the perimeter of the event. Artists, some of the best local talents, will be offering their varied creations. Crafts from woodcrafters, textiles from a number of talented folks, European Tomtes, pottery designs, copper creations, and many other unique creations and gifts will be on sale throughout the town.
Come for a day of fun, history, and surprises! The festival is held rain or shine.
Schedule of History Talks during the Fincastle Festival
Location:  Wysong Property Classroom across Main Street from the Courthouse Square Music Station
10 a.m. – Speaker Tommy Moore, Clerk of the Court for Botetourt County
Topic: Brief history of Botetourt County and Fincastle plus displaying some of the historic documents from the archives
11 a.m. – Film:  "A River Called Home"
Film Maker:  Jessica Wiegandt, an award-winning filmmaker who grew up with a love for the natural world, tells stories of conservation and perseverance in the outdoors and utilizes her background in experiential education to engage new audiences.  She has her MFA in Environmental and Wildlife Filmmaking from American University.
12 noon – (LOCATION Main Music Stage in Courthouse Square)
Quilts of Valor awarded to Chuck Geiger and Kip Burton for their service in  the Marines and Navy during the Vietnam War
1 p.m. – (back at the Wysong classroom)
Three octogenarians and a septuagenarian talk about growing up in Fincastle – What has changed and what has stayed the Same
2 p.m. – A short film about the 1965 Bluegrass Festival held at Cantrell's Farm near Fincastle
~Historic Fincastle Inc.