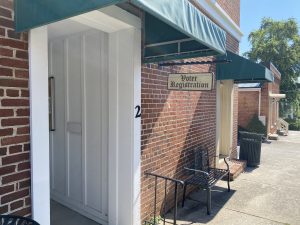 In-person absentee voting begins Friday, September 22. The Botetourt County Election Office hours are Monday through Friday, 8:30 a.m. to 4:30 p.m.
On Monday, October 9, the office will be closed for the Columbus Day holiday. The following Monday, October 16, is the final deadline to register or update voter registration for the election. All registrations and updates are due by 5 p.m. that day (or 11:59 p.m. if done online).
The deadline to request a mailed absentee ballot is at 5 p.m. on Friday, October 27. Requests must be received in office by 5 p.m. or online by 4:59 p.m.
The Election Office will be open on Saturday, October 28, for in-person absentee voting from 8:30 a.m. until 4:30 p.m. The following Saturday, November 4, the office will be open (and the deadline) for in-person absentee voting from 8:30 a.m. until 5 p.m.
Tuesday, November 7, is Election Day. Polling places will open at  6 a.m. and close at 7 p.m.
County residents may register to vote, update registration information or apply for a "Vote by Mail" ballot at Virginia Department of Elections website: https://www.elections.virginia.gov/, or call Registrar's Office at 540-928-2120.
~ Fincastle Herald staff report