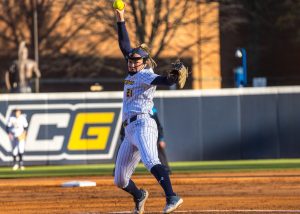 Rhyann Jones, a 2022 graduate of Lord Botetourt High School, has been named All-Southern Conference in softball at the University of North Carolina-Greensboro, as well as a member of the All-SoCon freshman team. The Daleville product is a pitcher for the Spartans, who will participate in the NCAA tournament this week.
Jones finished the regular season with an 11-2 record and a team-leading 2.42 earned run average. She pitched eight complete games, including five shutouts. She was second in the SoCon in ERA and wins in just her freshman year.
Jones and UNC-Greensboro will begin the 2023 NCAA Tournament in the Clemson Regional against the host team on Friday at 3 p.m. at McWhorter Stadium on Clemson University's campus. The Tigers are the 16th ranked team in the nation.
Winners of six straight games and 11 of the last 13, UNC-G will make its first appearance in the NCAA tournament since 2021. Joining the Spartans and Tigers will be the Auburn Tigers and the Cal State Fullerton Titans.
The winner of the Clemson Regional will advance to a best-of-three NCAA Super Regional against the winner of the Norman Regional between May 25-28. The Women's College World Series will be playing in Oklahoma City, Okla., June 1-9.