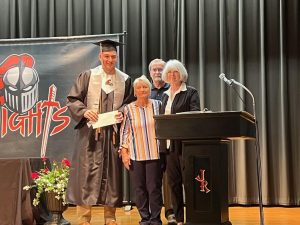 The Class of 1971 at James River High School decided after their 50-year class reunion to set up a scholarship as a token of appreciation for their time at James River and the support received from the faculty and staff.
The $1,600 scholarship was set up for any current seniors at James River who plans to continue their education either in a trade school or college.  Consideration was based on academic record, leadership and extracurricular activities, two letters of recommendation and a brief essay on how their career choice would benefit society.
Ten applications were received.  All were outstanding, according to the committee, but after careful consideration, Andrew Fowler was chosen as the recipient.  Andrew plans to continue his education at Mississippi State University, majoring in agricultural engineering.
Reunion committee members (from left) Sharon Britt, Danny Fainter and Cathy Booze attended the recent awards ceremony on May 16 to make the presentation.  Not pictured, but also attending, was committee member Gary Rookstool.