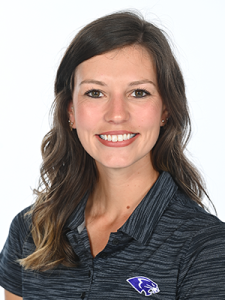 The Big South Athletic Conference announced its Women's Golf All-Conference teams and annual award winners last week and Lord Botetourt graduate Lyndsey Hunnell was named the Co-Coach of the Year along with Charleston Southern's Jordan Jeffers.
Hunnell led her team this season to a second place finish in the Big South Women's Championship before advancing on to a second-place finish in match play. During the 2022-23 season, the Panthers brought home two tournament titles, the Grandover Fall Classic and the Rivertowne Classic and finished in the top 10 in eight different tournaments.
Lyndsey coached Sarah Kahn of High Point to a Big South individual title and Golfer of the Year award while her roster combined for eight top 10 individual finishes.
Hunnell, a Troutville native, became head coach for HPU women's golf in June of 2022. She arrived at High Point after spending the previous three seasons as an assistant coach at Campbell University where she helped the Fighting Camels to two straight Big South Golf Championships in her three seasons on staff.
Prior to Campbell, Hunnell herself was a student-athlete at Virginia as she graduated with her undergraduate degree in 2018 before transferring to Xavier to play as a graduate transfer. She competed in the 2016 U.S. Women's Amateur championship and was a member of both UVA Women's Golf ACC Championship teams in 2015 and 2016.
While earning a Master's Degree in Sports Administration from Xavier, Hunnell earned Big East All-Conference honors and led the Musketeers to their first Big East title and NCAA Regional appearance.