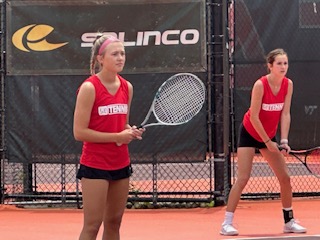 Lord Botetourt had tennis players competing in Region 3D singles and doubles last week.
In the boys singles tournament Tyler Meade reached the district championship match before losing to Christiansburg's number one, 6-0, 6-0. While the top two teams in the region advance to state only the champion in singles and doubles advance so Tyler's season ended with the loss.
In girls tennis two LB players played at the individual round of regions at Virginia Tech. Reagan Meade was ranked seventh in the region and was paired up to play the second seed, which was Abingdon's best player, who defeated Reagan 6-0, 6-0.
In doubles Meade and Emmy Sprouse were seeded sixth and took on the three seed from Christiansburg. The Blue Demon pair eliminated the Botetourt girls by a 6-2, 6-1 score.