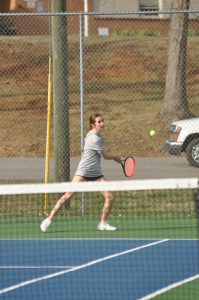 The Lord Botetourt tennis teams will play Rockbridge County counterparts today with the boys heading to Rockbridge and the girls hosting the Wildcats.
The boys got off to a rough start last week, losing a 9-0 decision to Salem in the opener and a 7-2 match to Glenvar on Thursday. Tyler Meade won his match against the Highlanders at number one singles and the second doubles team of Ridge Radtke and Chase Dozier won the other point for the Cavaliers.
The girls had similar results at the opposite locations of the boys. The girls lost to Salem, 8-1, and Glenvar, 7-2.
Karis Hambrick got the sole win for LB against Salem at number six singles. She lost the first set, then came back and won the second, 6-4, resulting in a tiebreak which she won, 10-3.
On Thursday at Glenvar Hambrick won again, this time 8-0, for LB's only point in singles. Hambrick and Emmy Sprouse won the other point for LB, winning an 8-6 pro set at number three doubles.
The Cavaliers had rematches with Glenvar on Tuesday but results were too late for publication, and today's matches with Rockbridge will be their last before next week's spring break.