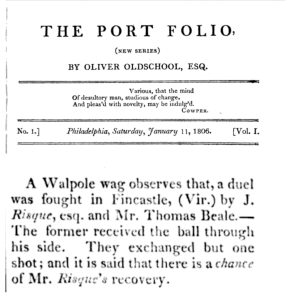 Know your history? Write a letter!
The Botetourt Preservation Partnership (BPP) values the county's history and wants to continue generating discussions involving aspects of the little-known facts about events that took place many years ago.
Recently, members of the partnership have shared conversations about an uncovered article from 1806 about a gun duel in Fincastle that was reported by a Massachusetts resident to a Philadelphia newspaper. Some of the names may be familiar to local historians, but why was someone from Massachusetts reporting to a Philly newspaper about a duel that went down in Fincastle? These are the types of questions BBP are asking and, hopefully, will find answers thanks to letters written by The Fincastle Herald's readers.
Pictured here, the article published in "The Port Folio" (Philadelphia newspaper, 1801-1827) explaining that a "Walpole wag" was privy to a duel that took place in Fincastle between J. Risque, esq. and Thomas Beale.
Do readers know more lesser-known facts about the county that could be shared? The Herald staff invites the community to engage in historical discussions through Letters to the Editor. Please submit facts and/or questions to fincastle@mainstreetnewspapers.com. Get in on the conversation and continue uncovering more historical notes as a community!