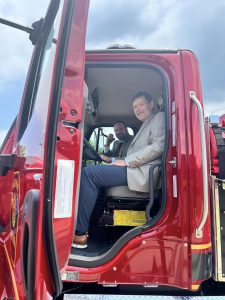 By Matt de Simone
The Botetourt County Board of Supervisors recognized a group of recent graduates from the regional fire academy at the regular meeting at the County Administration Offices in Daleville on June 27. Chief Jason Ferguson introduced the fire academy graduates: Cameron Bigart, Evan Vega, Mitchell England, Joshua Purdy, Ethan Howard, Michael Brown, Jamal Amaliki, and Andrew Abbott; and five recent paramedic graduates: Jacob Gibbs, Kyle Forney, Nicholas Delaney, Ross Surratt, and Elliott Emerick.
The last set of recognitions were for the award recipients from the Western Virginia EMS (WVEMS) Regional Awards. The Outstanding EMS Leadership Award was given to Deputy Chief Jeff Powell for demonstrating various leadership skills and administrative skills improving the overall delivery of EMS.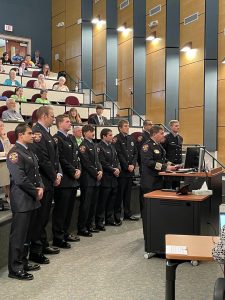 "Jeff has such a deep, innate ability to foster, develop, and teach anyone," Ferguson said about Powell's award. "He is a true image of a leader, steadfast in his efforts, no matter the challenges ahead."
The Regional Award for Innovation in EMS was jointly given to County Fire & EMS and the Sheriff's Office for establishing the rescue task force program and training to all Fire & EMS and Sheriff's Office personnel. The Innovation in EMS Award is given to a provider, agency, or private/public organization that exemplifies innovative excellence and advancement at the local, regional, statewide, and national level.
The new 3,000-gallon tanker truck ("Tanker 7" – Read Mountain Fire Station) was introduced outside of the offices prior to the meeting. Administrative staff and meeting attendees had a chance to get a closer look to the newest member of the county's fleet.