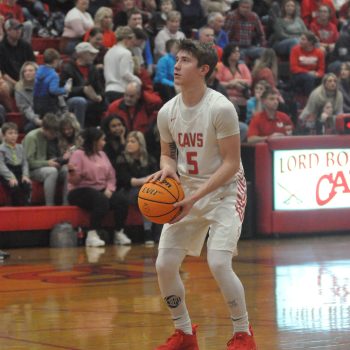 Lord Botetourt High School senior Jackson Crawford has been named to the Virginia High School League All-Class 3 basketball team. The eight-player team was announced last week.
Crawford ended an outstanding career at Lord Botetourt with over 1,000 points. This season he scored 567 for an average of 22.7 points per game while shooting 51 percent from the floor, 44 percent on three-pointers and 83 percent from the line. He also averaged 3.3 rebounds, 3.2 assists and almost two steals per game.
Despite his outstanding season, Crawford was under the impression that LB had to advance to the eight-team state tournament to be considered for all-state recognition. With state champion Northside and 2022 state champ Cave Spring in the same region that was a tall order, and apparently Jackson some got some bad information. There is no rule that a player must advance to the state tournament for consideration.
"I was somewhat surprised because that's what I thought," said Crawford. "It's a nice honor, but something I wasn't really thinking about until I was told."
Players selected to all-region first-teams are eligible for selection to the All-State team, and Crawford was recently named the Region 3D Player of the Year. Each All-State selection committee comprises eight basketball coaches, two from each Region.
Crawford will playing for Emory & Henry College next year after choosing the Wasps from a variety of schools who desired his services. He feels he can contribute as a freshman.
"I think so," he said. "I have a great relationship with the players and there's some spots where I think I can help."
Jackson has been lifting every day before school at 6 a.m. and working on his skills. He's always been a hard worker and the basketball scholarship to Emory & Henry fulfilled one of his dreams. E&H left the Division III Old Dominion Athletic Conference to join the Division II ranks, where they can give athletic scholarships, a couple years ago. This past season was their first in the South Atlantic Conference.
Crawford was one of four Roanoke Valley boys named to the first team in Class 3, joining Northside's Lawrence Cole and Cy Hardy and Cave Spring's Dylan Saunders.
Bill Pope, from Blue Ridge District rival Northside, was named Class 3 Coach of the Year after leading the Vikings to the state championship. Pope completed his 37th season leading the Vikings to a 29-1 record and a second state title (2019) with a 58-52 win over Hopewell. The only defeat on the schedule came against Cave Spring (65-60) in the Region D finals. However, Pope's Vikings made it to the finals with a 58-52 win over Cave Spring in the state semifinals. Pope picked up his 600th career win on January 4, 2023, with a 75-44 win over Salem.
Cameron Mise of Hopewell is the state Class 3 Player of the Year. A junior, Mise averaged 17.0 points, 5.7 rebounds, 2.1 assists, and 2.5 steals per game this season, leading the Blue Devils to the state championship game.