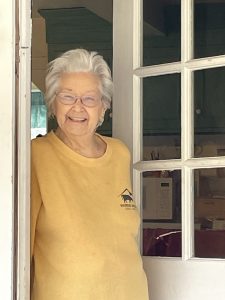 Gwyneth Myrtle Stevens Montgomery's address changed from her farm located along the James River to her heavenly home on July 30, 2023.
Gwen, born in Newmarket, England, on September 15, 1932, lived during a time many of us only read about.  She lived through the WWII food rations, frequent bombing, and the day-to-day fears of the war.
She married American Air Force Staff Sergeant Paxton Montgomery in 1952, and eventually relocated to his home in Buchanan, Va. What a shock to this British woman with two children. Gwen was an active person and lived independently until this illness. She enjoyed being on the go, loved working with flowers, had an incredible, full of life smile, and Britain was always home.
Her family will miss her presence but celebrates with her as she reunites with her family. She was preceded in death by her husband, Paxton T. Montgomery, Jr.; her parents, Leonard Francis and Florence Gertrude Stevens, and brother, Pete Stevens, all of Newmarket, England.
Her children, David (Sandra), Pete (Susan), Leonard (Dawn), Lee (Julie) and Jane (Dave); 12 grandchildren and 14 great-grandchildren will cherish her memories. Also, her sister-in-law, Alice "Bubby" Stevens, and multiple nieces and nephews on both sides of the pond will miss her quick British wit.
Graveside services will be held on August 3, 2023, with family Pastor Mike Woody at Fairview Cemetery at 2:30 p.m. All are requested to join the family at Buchanan Baptist Church immediately following the service for High Tea in her honor. At this time, lets honor her with a cup of tea!  In lieu of flowers, please consider a donation to the Eagle Rock Fire & Rescue Department, P.O. Box 234, Eagle Rock, 24085.