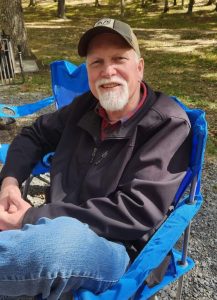 David Lee Musselwhite, 63, of Fincastle, passed away Sunday, September 24, 2023. He was preceded in death by his parents, David and Minnie Musselwhite.
He was presently working at Medeco Security Locks with just under 42 years of service. He enjoyed spending time with his family, anything to do with cars; especially Dodges, going to the beach, and spending time with his pets at home. He enjoyed volunteering in the I.C.C.D. Mission Field in Mexico as well as the Standing Rock Indian Reservation in North Dakota for many years. He will be missed by many.
He is survived by his wife 42 years, Trudy Lee Musselwhite; son and daughter-in-law, Cory and Amberlea Musselwhite; daughter and son-in-law, Autumn and Aleksey "Alex" Trabert; grandchildren, Levi Musselwhite, Jackson, Elijah, and Devin Trabert; special extended family, Jonathan Friday and her children, Ava, Skyla, and Kia Ellis; sister, Susan Musselwhite; brother-in-law, Keith Jenkins; mother-in-law, Charlotte Lee; brothers-in-law, Mike (Sue) Lee, David (Karen) Lee; and numerous nieces and nephews.
Visitation will be held on Wednesday, September 27, 2023 from 10 a.m.-12 p.m. with funeral services at 12 p.m. in Pleasant Hill Baptist Church with Pastor Danny Barham officiating. Interment will follow in Fair View Cemetery in Roanoke. Online condolences may be made at www.botetourtfuneralhome.com or 540-254-3000.