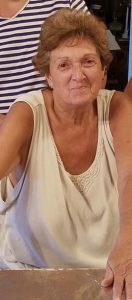 Deborah Ann Landis Nininger, 73, of Eagle Rock, passed away Friday, September 22, 2023.
She was preceded in death by her parents, William and Betty Landis; daughter, Janice Wimbush, granddaughter, Kathleen Harlow; and sister, Dee Windsor
She is survived by her husband of 30 years, Gerald Nininger; daughter and son-in-law, Virginia and Doug West; grandchildren, Darrell Harlow, Austin Wimbush, Rebecca Harlow, Billie West, and Nathan Harlow; great-grandchildren, Jasmine, Kyla, Noah, Adria, Lacey, Amara, Kenneth, and Josephine.
Memorial services will be held at 2 p.m. Sunday, October 8, 2023 in the Eagle Rock Community Center. Online condolences may be made at www.botetourtfuneralhome.com or 540-254-3000.