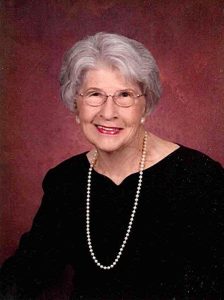 Agnes Landers Painter passed away peacefully on Thursday, August 10, 2023 in her home of 44 years with her family at her side.
Born in the Troutville area in 1928 to Julian Miller and Ruth Dillard Landers, she spent her entire life in the community with the exception of her time at Mary Washington College. The oldest of four children, life in Botetourt County was simple and centered around family and church where a Christian upbringing established her lifetime sense of values. Even though she was a child of the Great Depression, her parents' hard work and dedication to family ensured that she and her siblings were sheltered from the ever-present economic uncertainty of the era.
At an early age, she discovered her love of music, a passion that would have a profound influence on her life. She began taking piano lessons as the age of 8 from an accomplished pianist, Cille Graybill, who would later become her sister-in-law. As economic times improved, her dedication was rewarded when at age 12 she returned home from school one afternoon to find a new upright piano in the family living room. Her skill continued to evolve and as a teen she began playing for services in nearby churches and taught herself to play the organ. As an adult Aggie taught piano lessons both in public school music rooms as well as in her home, and across the years passed the gift of music along to hundreds of students.
When Aggie was only 15 a tenor soloist in her church choir, Bland Painter, caught her eye. Bland also played trombone in the high school band and it was their shared love of music which formed the cornerstone of a lifetime journey together. Aggie and Bland had been married for 61 years at the time of his passing in 2008. Across the years they served in the music ministry of several area churches, she as organist and he as choir director. They were active members of the congregations they served and many treasured friendships were formed during these years. For the past 20 years she was a member of Bonsack Baptist Church where she sang in the adult choir and was a member of the Seekers Sunday School class.
As exemplified by the relationship she enjoyed with friends and family, Aggie believed the essence of life centered around love for others. Her gentle presence in our lives will be missed and her passing serves as a reminder that every moment is to be treasured.
Aggie was preceded in death by her husband, Bland Amos Painter Jr.; a daughter, Rosanna Painter Myers; a granddaughter, Megan Alina Weddle; and a sister, Faye Landers Peters.
She is survived by her children, Bland Amos Painter III and wife, Betty; Page Painter Weddle and husband, Steve; and son-in-law, Robert Harrison Myers. Surviving grandchildren are Whitney Painter Leary and husband Brian, Bland Amos Painter IV and wife Jennifer, Kendall Painter Patriacca and husband Seth, Brice Dillard Painter, Caroline Myers Winters and husband Martin, Robert McDowell Myers and wife Ellie, Harrison Livingston Myers II and wife Sarah, Christopher Steven Weddle and wife Anna, Abigail Weddle Khatibi and husband Piyum, and 17 great-grandchildren. She also is survived by her sister, Betty Landers Huddleston; and brother, Julian Miller Landers Jr., along with a number of nieces and nephews.
A graveside service with the family was held on Saturday, August 19, 2023. A celebration of her life will be held at Bonsack Baptist church in the coming weeks.
In lieu of flowers, please consider memorials to Bonsack Baptist Music Ministry, 4845 Cloverdale Road, Roanoke, 24019. Online condolences may be made to Aggie's family at www.rader-funeralhome.com/tributes/Agnes-Painter.