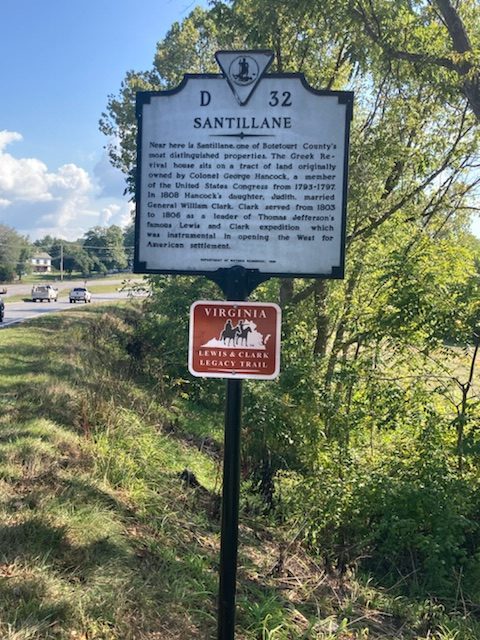 The Virginia Lewis & Clark Legacy Trail (VLCLT) initiative began 13 years ago. It has been developed and implemented with collaboration and assistance from Virginia state departments, local governments, historical societies, and civic organizations. Today, there are 15 counties, six cities and many towns on the trail's pathway that are actively participating on the trail. VLCLT-designated county/city chairs coordinate Lewis & Clark-themed activities at the local level.
The trail route is dotted with historical sites and locations many of which have already been proven and officially authorized as Lewis and /or Clark connected by standards of the Virginia Department of Historic Resources' (DHR) Historical Highway Marker Program. In 2022, the Virginia General Assembly approved funding for Lewis & Clark signage that included both a Virginia Historical Marker and Lewis & Clark Plaque attached below the marker's panel (see photo).
At the time of the VLCLT project's beginning, or soon after, the Virginia Department of Historic Resources had awarded 12 historical Lewis & Clark-related markers to eight localities: Caroline County (3), Spotsylvania County (1), Albemarle (2) and Augusta (1) Counties, Botetourt (1) and Montgomery Counties (1); as well as the cities of Bristol (1) and Charlottesville (2). These existing historical markers as well as all future Lewis & Clark-related historical markers will have the Lewis & Clark Plaque attached.
The week of September 18-22 was earmarked for attaching the plaques to nine of these existing markers throughout the state. The following is a list of those markers:
William Clark Birthplace/E-100-2 (Caroline)
Clark Family Farm/E-99 (Caroline)
Spotsylvania County/Caroline County/Z-156
Birthplace of Meriwether Lewis/W-161 (Albemarle)
Birthplace of George Rogers Clark/W-199 (Albemarle)
John Colter/JD-15 (Augusta)
Santillane/D-32 (Botetourt)
Fotheringay/K-67 (Montgomery)
Walnut Grove Plantation/K-123 (Bristol)
The other three include two historical markers in Charlottesville, The Farm/Q-27 and the Stone Tavern and Central Hotel/Q-20, and a replacement marker and Lewis & Clark Plaque for York in Caroline County will be installed at a future date.
The Virginia Lewis & Clark Legacy Trail, Inc. thanks VDOT's contracted partners for installing the nine plaques, the City of Charlottesville for installing plaques there, and all VLCLT county/city chairs for their coordination of this special activity, as needed, at the local levels.
~ Botetourt Co-Chairs Lyn and Kip Burton
Virginia Lewis & Clark Legacy Trail, Inc.