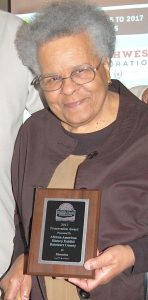 By Matt de Simone
The Botetourt Historical Society and Museum (BCHS) provide visitors a chance to revisit some of Botetourt County's history through education, exhibits, and activities. The museum's 57-year history saw a couple of massive changes last year. One of those changes stemmed off of the county courthouse renovation project, causing the museum to successfully find a new home.
Over the next several weeks, The Fincastle Herald will feature interviews with some of the individuals who love Botetourt's rich history and help make the Botetourt County History Museum a must-see destination.
Judy Barnett is a proud member of the Botetourt County Historical Society. A Botetourt native, Barnett has always loved living here. Years ago, Barnett befriended former BCHS Director Emily Honts. As their friendship grew, so did the scope of Botetourt's African American history now displayed in the Botetourt County History Museum in Fincastle.
"This is my home," Barnett said of the county in a recent interview. "I helped (former BCHS Director) Emily Honts with little things that she needed that I could do. I've always liked what the museum stood for. African American history hadn't always been included. It started with me and my brother, Edward, working with Emily to get it included."
Honts first helped the Barnetts with their family's history. She and her family members "dug deep" when it came to looking up her family's history. Barnett would travel with Honts to various events around the state and her interest in history rubbed off on Judy and her late brother. On these trips, Judy and Emily would enjoy stopping at different restaurants for breakfast and eating pancakes together, visiting Honts's various projects with the Daughters of the American Revolution (DAR), and attending Highland County's Maple Festival.
In their research, Judy and Edward came across the history of a World War II veteran and 1952 Olympic gold medalist boxer named Norvel Lee. A native to the county, Lee was born in northern Botetourt in 1924. His family lived near Gala where he attended a segregated elementary school in Eagle Rock and graduated high school at the Academy Hill School for Negroes in Fincastle.
Local author Ken Conklin saw the exhibit curated by Judy and Edward that spawned his autobiography about Lee titled, "Norvel: An American Hero." Last year, due to the Barnett's research and Conklin's interest/novel, a plaque dedicated to the memory of Norvel Lee was placed in Gala.
"(Due to the) history we gathered on African Americans in Botetourt County, the Norvel Lee story came about because Ken Conklin saw our exhibit and, for some reason, Norvel Lee stuck (Conklin's interest). He saw our exhibit and, from there, he researched Norvel Lee, and met his family."
Barnett is proud of Botetourt's African American history.
"It makes a difference that everybody knows (about Botetourt's African American history)," Barnett said. "Before, there wasn't a lot out there. One reason my brother and I started (our research) because we wanted everybody to know our history because African Americans have been here, a part of, and helped build the county."
The Barnett family had a 152-acre farm off of Timber Ridge Road for years. Judy's father, Howard, his brother, and sisters were born of the back end of the farm originally purchased by Judy's parents when they were married. Judy's aunts and uncles gave their share of the homeplace to Judy's dad, Howard, years later.
Like Norvel Lee, Barnett also attended Academy Hill from grades 1-8, and then went to Central Academy High School where she graduated in 1963.
Barnett's interest in Botetourt's history stemmed from her father. He, along with their Caucasian neighbors, would tell Barnett stories of the family's early days in Botetourt.
"It's (Botetourt) always been a good homeplace," Barnett said. "(My father) really cared about the community. Not only the African Americans, but everybody and the history of the county. It didn't make a difference. We were not raised to know there were any differences."
Barnett didn't want to leave Botetourt when she graduated from high school. She arrived at Virginia State University and immediately felt homesick. It was Judy's roommate and hallmates in her dorm who talked the then-17-year-old to enjoy her time away from the only place she knew as "home."
"I didn't want to leave home," Barnett recalled. "My roommate and all the girls in the dorm they talked to me, screamed at me, and even locked me in a closet one day. They said that it (my behavior) didn't make any sense. They said, 'Do you know how old you are?' They talked to me and the more I listened, I realized, 'I'm a grown person. They're right. Why am I acting this way?' So, I got myself together."
Barnett always loved office work. She graduated with an Associate Degree in Secretarial Science in 1966. Her skills in typing and shorthand led her to an office in Petersburg as a new secretary working for Virginia State.
During one Christmas home a few years later, Judy's father fell ill and passed away. She never went back to Petersburg and stayed home in Botetourt, eventually finding a secretarial job with Central Academy.
"I just didn't want my mother to be alone," Judy said. "My mother and father made plans after his retirement to travel and doing other things around the house. I didn't want to her to be alone, so, I'm here."
After working at Central Academy, one of her friends informed her of a secretarial job opening at Evan's Paints in Roanoke. She and a friend then took turns driving into Roanoke during the week. That's where she stayed for several years serving as a secretary and taking paint orders.
After retiring approximately a decade ago, Barnett now takes things easy. She always planned to retire as early as she could. Her mother left their homeplace off of Wheatland Road to Judy, her brother and sister.
Some of Judy and Edward's research is currently on display in the Botetourt County History Museum. They received a grant years back that funded a television placed in the museum that loops the Barnetts' research on Botetourt's African American history.
In 2017, Judy and her brother Edward were recognized by the Roanoke Valley Preservation Foundation (RVPF) for their research on African American culture and communities.
To learn more about the Botetourt County Historical Society & Museum, visit bothistsoc.wordpress.com. The museum is located at 26 East Main Street in Fincastle and is open to the public Monday through Saturday from 10 a.m. to 2 p.m. and on Sundays from 2 p.m. until 4 p.m.