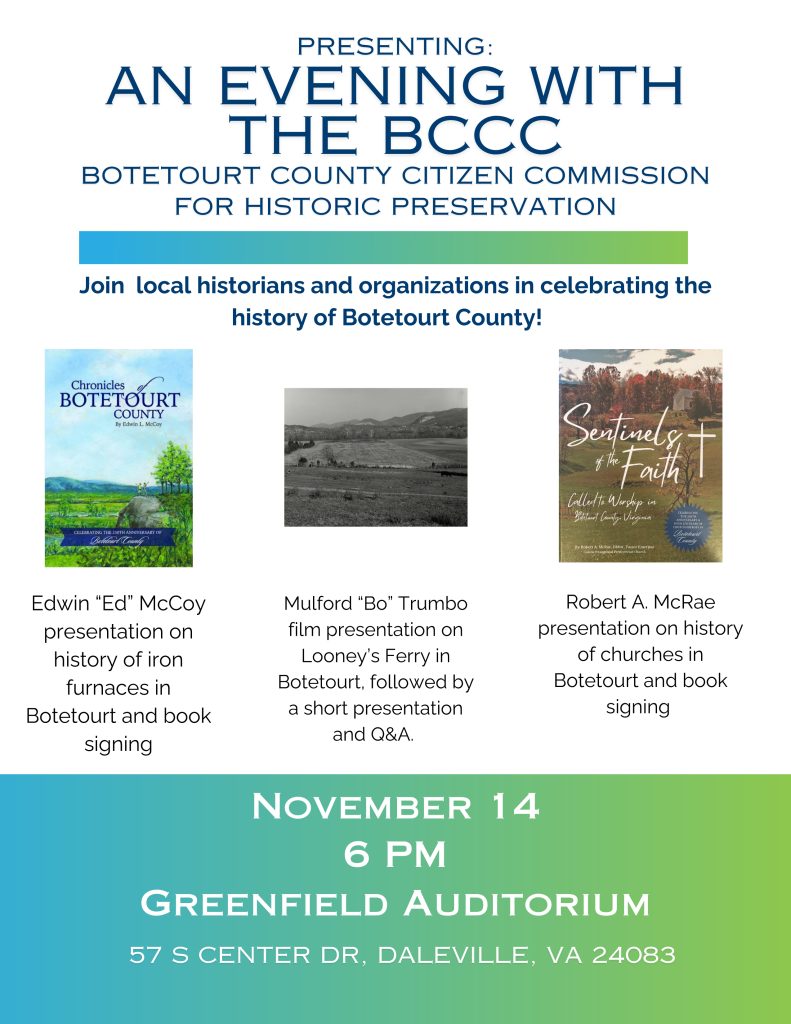 The Botetourt County Citizens Commission for Historic Preservation (BCCC) invites the public to "An Evening With the BCCC" Tuesday, November 14 at 6 p.m. in the Greenfield Auditorium at the Botetourt Center at Greenfield, Daleville.
The evening includes an introduction to the BCCC along with three presentations about the county's history and a presentation about how owners can access information with the steps to have their property listed as historic on a proposed Botetourt County Historical Register, or the Virginia and National historic registries.
During Tuesday's event, Malfourd "Bo" Trumbo will show the short film about how Looney's Ferry on the James River near Buchanan helped open Virginia's frontier to settlement in the mid-1700s.
The Rev. Robert McRae will discuss his new book about the histories of Botetourt's churches, "Sentinels to Faith: Called to Worship in Botetourt County, Virginia. "
The book touches on some 270 years of Trinitarian Christian Church history in Botetourt County. The book was written as a way of continuing to celebrate Botetourt County's 250th anniversary.
It includes a page of history for each church and a photograph.
Ed McCoy will discuss his book on Botetourt's history, written for the Botetourt County Historical Society to commemorate the county's 250th anniversary. "Chronicles of Botetourt" covers a wide range of county history from its geographic significance and how its natural resources impacted the county's development to stories of individuals unique to the county.
Also, Historic Greenfield Preservation Council will have its new brochure about Greenfield Plantation available.
The books will also be available for sale.
The citizens commission was appointed by the Botetourt Board of Supervisors to bring attention to the county's history, historic properties and events. Over the past year, the BCCC has organized and partnered with the county library system to establish a web link with a variety of information for those interested in researching how to have their property nominated for the historic registries.
For more information, email BCCC Secretary Ed McCoy at edmccoy@ujroutdoors.com.
~ Botetourt County Citizens Commission for Historic Preservation