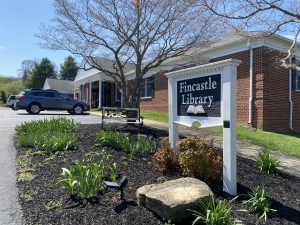 By Matt de Simone
During the public comment portion of last week's Botetourt County Board of Supervisors meeting, citizens expressed concerns about the content found in Botetourt County libraries.
The board heard from five individuals who claimed county libraries are housing books containing "confusing" and "sexually indoctrinating" content.
One citizen said she spoke with Virginia Congressman Ben Cline and Del. Christopher Head, who she claimed gave written support for the county to remove the content held in question, which she claimed was purchased with county tax dollars "without approval." She presented solutions that included an "easy to find" removal request form and for the reconsideration committee to include "an equal number of professing Christians to give a true voice" when it comes to collection development in county libraries.
One Fincastle resident claimed he "looked online" to see what reading materials were available for children in the county's library system. He mentioned two titles he came across in his research.
The first title he mentioned is called "Making A Baby" by Rachel Greener, a book about how families begin, which acts as is a tool for parents and their children to engage conversation on the subject. According to Botetourt Library Director Julie Phillips, "Making A Baby" is not found in Botetourt County libraries based on the Roanoke Valley Libraries website (RVL.info), a shared database for library books found in the public libraries in the Roanoke Valley.
The same Fincastle resident brought a book he found in the Fincastle Library, "The Every Body Book: The LGBTQ+ Inclusive Guide for Kids About Sex, Gender, Bodies, and Families" by Rachel E. Simon. He claimed the book is "basically an introduction to sex and LGBTQ lifestyles for children." He claimed the book was located "four feet away from the Dr. Seuss display."
These and other children's materials are accessed only under the direct supervision and consent of an adult caregiver. According to Phillips, no children under the age of 13 are allowed in libraries without a parent or chaperone, and parents have full control of their children's library accounts until they turn 18 years old.
"One of things that I think people don't realize is that we have a policy in place where children are not allowed to be in the library by themselves," Phillips explained. "If they're under 13 years old, they must be accompanied by a responsible adult, who is at least 18 years old.
"We expect them (the adult) to be fully engaged and aware of what that child is doing, accessing, and reading within the library space. It's the parent's right and responsibility to determine what's appropriate for their family and for their child. Different parents have different ideas about what's appropriate and when."
The Fincastle man suggested a book like "The Every Body Book" should be selected locally as opposed to being selected by "experts" at the American Library Association (ALA) based in Chicago, Ill. The current reconsideration request system was explained by Phillips.
"The Reconsideration Request Form is currently available in print format at every library location, which is a typical process in public libraries," Phillips said. "The American Library Association does not have any jurisdiction over any libraries in the U.S., nor did their staff have any direct involvement in our policies. The ALA is simply a professional organization that serves as a resource, much like the Society for HR Management (SHRM) is a resource for Human Resources professionals. Our policy aligns with what you'll normally see in public libraries, but every library drafts their own unique policies for their locality.
"Our library materials are selected by a team of professional Botetourt Library staff members, under the supervision of the library director. The ALA has no involvement in our collection decisions, or in any library's collection decisions, for that matter. Patrons can see more details in our Collection Development Policy posted on our website (https://www.botetourtva.gov/DocumentCenter/View/3226/Collection-Development-Policy)."
In another recent interview, library liaison and Board of Supervisors Amsterdam District representative Steve Clinton explained the role of the library and their selection process for what citizens may access.
"I think the role of the library is to be as broad-based and as all-encompassing as possible and to provide knowledge to people," Clinton explained. "There's a process for selecting books. There is a process for reevaluation of ones like these (books) that might be in question. As far as why libraries would carry such books, the whole idea is to shape knowledge, to connect people, and to be as open as any democratic institution ought to be. I think that's the very essence of the library's mission."
Blue Ridge District Supervisor Billy Martin added to the comment period last Tuesday afternoon, stating that he was unaware of these materials citizens claimed were located in Botetourt libraries. He agreed with removing the content in question, but explained that he wasn't in the position to make those decisions.
Furthermore, Botetourt libraries are public libraries, not school libraries as Phillips further explained.
"As a public library—we're not a school library, we're not a daycare, we are not some special target audience—we collect a broad range of materials on a broad range of subjects from a broad range of viewpoints for all of our citizens in Botetourt County. Obviously, people need a lot of different information. This is very much a community-curated collection. We are purchasing books that our community is asking for or that our statistics have shown there is a definite interest in—specifically the Botetourt community. We are collecting items for Botetourt the community has clearly indicated they want.
"Fortunately, use of these items in the libraries is completely voluntary. If somebody finds something that they don't feel is a good fit for them or their family, they don't have to access it, they don't have to read it. Somebody else may find that very helpful and they do have access."
According to Phillips, only one citizen has visited the Fincastle Library to speak about the institution providing content like The Every Body Book.
"We have a formal reconsideration policy that's posted on our website, so if anyone finds content in our library that they feel should not be available to the community, then what they can do is fill out a request for reconsideration form. For that, they can contact any of us (at the libraries).
"We have a whole process where we review a specific title to make sure it aligns with our collection development policy. We have a process in place, but only one person has taken advantage of it so far. We're here and available.
"What we're seeing in Botetourt follows lock-step with national trends, where libraries are caught in the middle of a political and cultural turf war, and where providing resources from multiple viewpoints is interpreted as an 'agenda' from every side," Phillips stated. "As PEN America's report and others point out, most book bans today are not coming organically from concerned citizens, but from advocacy organizations that make censorship of specific ideas of part their mission.
"We do not want to see our dedicated library staff afraid to come to work, simply because they are meeting the needs and requests of all our community members, regardless of their demographic or viewpoint. In this polarized environment, the public library may be one of the few places left where everyone has free access to a wide range of ideas, without pressure or bias or algorithm-fueled tunnel vision. Libraries protect everyone's First Amendment and parental rights, and now – even in Botetourt – these rights are under fire."
The Botetourt libraries formal reconsideration policy can be found here: https://www.botetourtva.gov/DocumentCenter/View/2506/Reconsideration-Policy.
Additional public comments
An Oriskany resident asked to cease the proposed Rails to Trails project on the Craig Valley railbed, claiming turning the abandoned railbed into a trail for outdoor enthusiasts as a "bad idea." He noted that over eight miles of the 26-mile trail is currently used for "regular vehicle traffic, has poor visibility," and is "not a place for vehicles and cyclists to share safely."
Additionally, another Eagle Rock citizen opposed the trail, sharing her worries about horse-riding on the trail, alleging that "bikes frighten horses." She said the building of the trail will impact residents who paid for their land along State Route 817 who live there for its serenity. She believes the multi-use trail could cause a "very dangerous situation" based on research she compiled when studying the Virginia Creeper Trail located in Abington. Another resident on State Route 817 wondered why the "residential area" along the proposed the trail is being targeted for the project with other trails that she claimed were available.
An Eagle Rock resident expressed concerns about air navigation in the proposed area of the Rocky Forge wind project. The citizen claimed that an aircraft was recently spotted in the Rocky Forge area, flying low above the resident's home close to where the proposed wind farm will be located. The woman shared concern about the project allegedly being "at no hazard to air navigation." She presented the board photographic evidence of the low-flying aircraft. The Eagle Rock resident shared concerns over a potential air disaster that could affect the area if wind turbines are constructed with a subsequent lawsuit potentially.