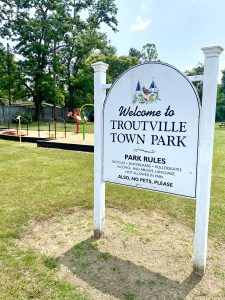 The Botetourt Chamber of Commerce will host a ribbon cutting celebration for the senior fitness equipment dedication at the Troutville Town Park on Monday, June 19 at 11 a.m. All are welcome to attend.
This state-of-the-art outdoor equipment project was the dream of Dean Paderick and Harry (Skeets) Ulrich when one day they came together and decided that fitness equipment aimed specifically at senior citizens should be placed in the Town Park. While researching the project, they visited Gypsy Hill Park in Staunton, which was the only one in the area that featured senior fitness equipment.
To make their dream a reality, they fundraised, applied for various grants, managed fund appeal letters, and searched for private donations. There was a lot of help from different organizations in and around Troutville that helped them reach their goal, including Glenda F. Terry, Bank of Botetourt, First Bank, Botetourt Kiwanis Club, and APX Traffic Management.
Unfortunately, during this fundraising campaign, Dean Paderick was battling cancer, and sadly in June of 2022, he lost his fight. Skeets took the project over and with the help from many friends and family, their dream became a reality.
On May 20, 2023, a benefit ride was held at the Troutville Town Park in Dean's honor. All the funds raised will cover the remaining balance on the installation of the equipment. Dean will be remembered at the ribbon cutting and his contributions to the project will continue to be enjoyed in the community by those who visit the park. The equipment and track surrounding it not only encourages a better quality of life, but it also offers a gathering area for seniors in the community to socialize.
~ Botetourt County Chamber of Commerce