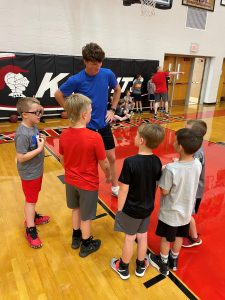 James River basketball coach Ethan Humphries and staff will conduct the second annual Youth Boys Basketball Camp this summer. The camp will be from June 5–8 at James River High School with each day going 8:45 a.m. to noon.
Doors open at 8 a.m. for camper drop off. The cost of the camp is $100 per camper, which can be paid at the check-in table the first day of camp.
"We had a great turnout last summer and our guys had a blast," said Humphries. "We'd love to get as many young players there as possible so they can use what they learn throughout the summer and be excited about working on their game. Obviously, it's a great fundraiser for our program, but for the young kids to be around our players and program for a few days it can really instill some dreams that can't be replicated elsewhere. We're excited for a fun week."
To sign up visit the JRHS athletic announcements webpage for the registration link or find the link on the James River High School Boys Basketball social media pages. Campers registered by May 1 are guaranteed a camp T-shirt.