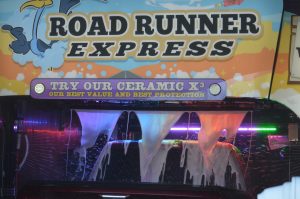 By Matt de Simone
The only car wash on the East Coast featuring scented soaps and a four-step vacuum system is now open in Daleville.
The Roadrunner Express Car Wash officially opened last Saturday as members of the county administrative staff and the Botetourt Chamber of Commerce helped welcome the new business. Visitors received free car washes from open to close.
Manager Brandon Huneault welcomed guests to the new business that features a 135-foot tunnel  with state-of-the-art equipment including an advanced belt system allowing for a smooth ride through the tunnel, LED lighting that uses soap as a "drawing board" for designs "written" in the soap for users to experience, a safe tire shine brush, and a three-step ceramic wash that Huneault compared to Turtle shell chocolate over ice cream adding a layer of protection.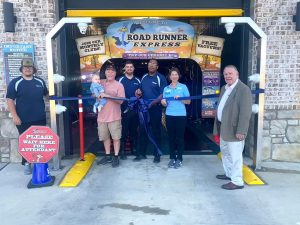 The car wash also features the only four-step vacuum system along with a "grand entrance arch" that gives all the necessary information for customers and the car wash itself.
Roadrunner also contains a circulating system that cleans the water used by the car wash and uses devices to better "soften" hard water that may enter the system. Inside the tunnel, the wash is equipped with anti-collision plates along the belt that will prevent fender benders.
To learn more about the new Roadrunner Express, visit www.rrexpresscarwash.com.