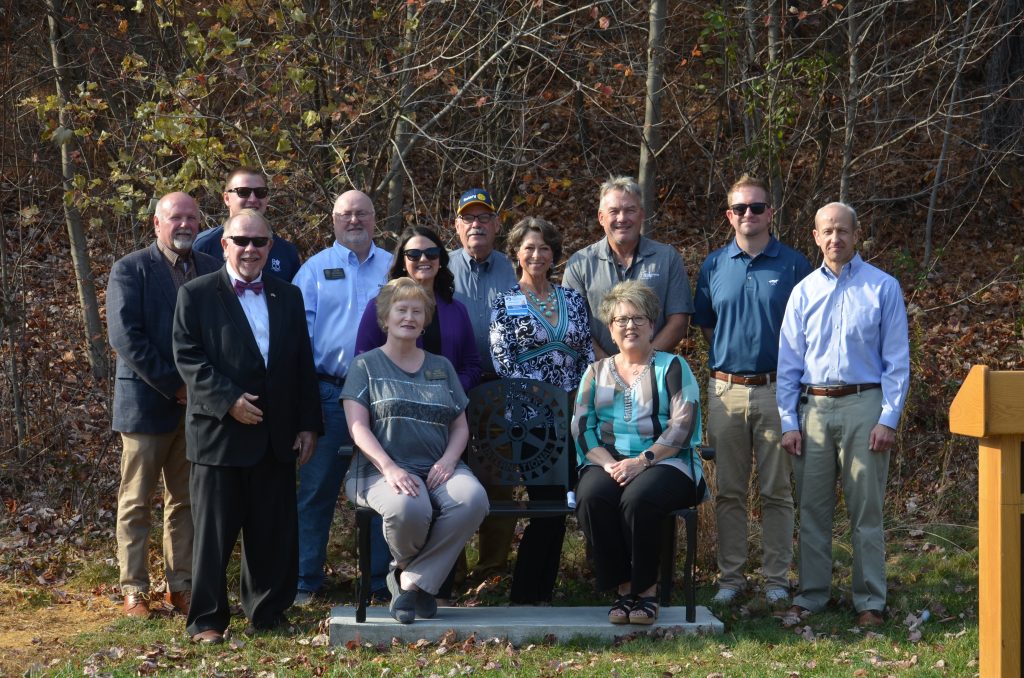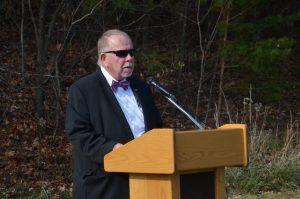 By Matt de Simone
Members of the Botetourt Rotary Club and county administration gathered at Blue Ridge Park for a dedication of two benches located at the park's playground and along the walking trail.
County Parks & Recreation Director Mandy Adkins kicked off the ceremony by welcoming attendees to the event and thanked the Rotary Club and county maintenance department for their efforts getting the benches placed on park grounds.
Blue Ridge Supervisor Billy Martin then spoke about the benefits of the park and its importance to Blue Ridge as well as the county.
"A lot of precious memories have been made at this park and I know that the families that use this park will appreciate these two new benches that have been provided," Martin said during the ceremony. "These benches will allow parents to watch their kids explore the playground and allow visitors to take in a few moments of rest and relaxation while taking in the beauty of this beautiful county."
During the month of November, the county expresses its gratitude through its #BOCOGrateful campaign. Martin noted that the Botetourt Rotary Club is "a shining star of the community."
Rotary Club member Joe Obenshain shared the story of how the benches wound up at the park. He mentioned the work of fellow members and thanked Appalachian Power Company for being benefactors to the project.
Obenshain said that he saw an article in a local newspaper about Rotary benches installed at a park in Salem. They first had benches installed at Greenfield Recreation Park in Troutville.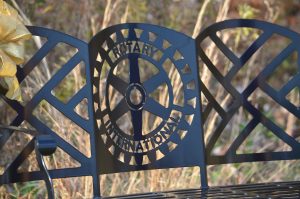 "Initially, we bought two benches and placed them at Greenfield," Obenshain noted. "Then, we thought, let's do two more. The folks at Appalachian Power agreed to fund a large part of the cost of these benches. We're so grateful that this could be a part of what's a great asset for the Blue Ridge District and for Botetourt County."
County Administrator Gary Larrowe took to the podium to share his thoughts on the new Rotary Club benches. He shared his family's history with the Rotary Club becoming involved with the organization himself. He thanked everyone involved and added that the Botetourt Rotary Club is "an absolutely wonderful group."
"There are opportunities in every direction about success," Larrowe added. "There are opportunities to be able to lead in the community and one of the things that has happened is that Mr. (Billy) Martin has led in this community for 16 years in the Blue Ridge District and has done a phenomenal job of supporting the efforts of Botetourt County in general—not just specifically in Blue Ridge…. His tentacles have actually stretched out, not only in Blue Ridge, Botetourt, and not only in the region, but across the Commonwealth.
"It's an absolute pleasure having Billy here, being able to have Rotary here, and the rest of the community understanding the efforts as a total. I cannot imagine all of the people that will end up enjoying these benches as we go into the future. There will be lots of people that don't understand what it took to make this happen…. It takes a lot of ideas, encouragement, donations, time, effort, and energy—and these are things people cherish associated with these kinds of things."