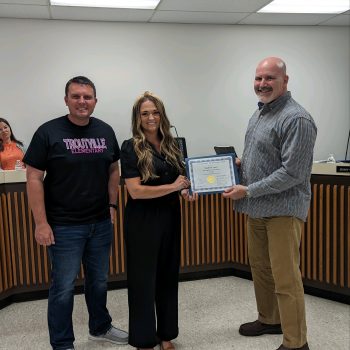 By Matt de Simone
The Botetourt County Public Schools (BCPS) School Board recognized teachers and students on their recent achievements at their regular meeting held at the BCPS Administration Offices last Thursday in Fincastle.
The board presented certificates of recognition to their BCPS Employees of the Month, Troutville Elementary School teacher Madison Lantz and Botetourt Technology Education Center (BTEC) Administrative Assistant Angela Gentry.
County students who recently received a high school diploma and a uniform certificate and/or diploma of general studies at Mountain Gateway Community College and Virginia Western Community College. A diploma from Virginia community colleges is a two-year curriculum in which a student must complete a minimum of 60 college credits. The uniform certificate of general studies is a one-year college program in which all courses are transferable and satisfy general education requirements at any Virginia public institution of higher education. Students who complete 30 credit hours of course work receive uniform certificate of general studies.
The board recognized James River students Maddox Potter for earning Associate of Arts and Sciences and Uniform Certificate of General Studies and Macy Williams for earning a uniform certificate of general studies from Mountain Gateway. Potter graduated from James River this year with a high school diploma and an associate's degree from MGCC. Lord Botetourt student Griffin Davidson was also recognized for receiving his uniform certificate of general studies from Virginia Western.
BCPS Financial Director Brandon Lee presented the latest draft of the ESSER III spending plan. In the plan, a little over $3 million is being spent on the Summer Academy, school bus replacement, and mental support, among others. All funds must be spent by September 30, 2024. Lee explained "the dollars are being put to use." When asked by Board member Tim Davidick about recent actions by congress to "claw back" COVID money effecting ESSER funds, Lee said that they haven't been given any notification that will happen. No citizens comment during the public comment period.
To watch this month's meeting in its entirety, please visit bcps.live/archives.