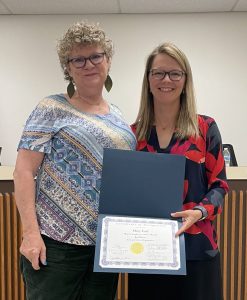 By Matt de Simone
At last week's regular meeting of the Botetourt County School Board in Fincastle, the board recognized Employees of the Month, bus driver Mary Corl (Transportation Department) and Director of Finance Brandon Lee. During the recognitions, Superintendent Dr. Jonathan Russ mentioned the "special connection" between students who participate in extracurricular activities and Corl.
Lee was nominated by School Board member Matt East. According to Board Chair Anna Weddle, the rest of the members "jumped on board" following Lee's nomination.
"Mr. Lee answers all of our questions, especially around budget time, and we have many, many questions," Chair Anna Weddle mentioned. "He's very patient… always has a smile on his face and treats everybody very well and is always ready to help out."
Russ recognized student athletes from James River High School: 2023 Virginia High School League (VHSL) Class 2 wrestling state champion Xaiden Wynn for his success in the 106-pound weight class; Nathan Stewart becoming a member of the VHSL Class 2 All-State wrestling team on the 120-pound division, and Emma Francis on making the All-State indoor track First Team.