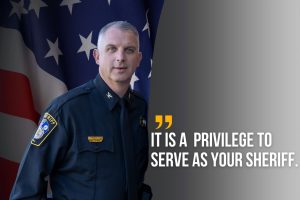 Sheriff Matthew T. Ward has announced his re-election campaign as the Republican nominee for sheriff of Botetourt County.
Sheriff Ward, who is currently serving the fourth of year of his first term, said he is proud of what he and his staff have accomplished since taking office in January of 2020.
"It is a privilege to serve as your sheriff. The past three and half years have been marked by the unprecedented and extraordinary challenges of COVID-19, and a shift in the public perception of law enforcement. Although Botetourt was not immune to these circumstances, the impact was minimal compared to other localities," Ward said. "With the commitment of our staff and the overwhelming support of our community, we overcame these obstacles ensuring Botetourt County remained a safe place to live, work, and raise our families. It is an honor to serve the citizens of Botetourt County."
Under Sheriff Ward's leadership the department implemented its first inaugural community outreach program, taking an active role in bringing together deputies and the citizens they serve in a non-enforcement environment. These community events include National Night Out, Senior Services Day, Senior Socials, and BOCO Camp Leo, and more. As sheriff, Ward said he will continue to focus on what matters most, and "that is you, your children, and your property."
"From day one, I made it a priority to staff every school with a School Resource Officer. When I took office, two School Resource Officers shared responsibility among the seven existing elementary schools. I am proud to say that every school now has an assigned School Resource Officer position."
The county's first official Inmate Work Crew Program, established by Sheriff Ward, has proven to be beneficial for both the community and the inmate, saving the taxpayer thousands of dollars and instilling values of responsibility while completing a variety of maintenance projects that would otherwise go unattended, said the news release announcing his re-election bid.
"Regardless of the circumstances inmates may find themselves behind bars, it is in our best interest that they integrate back into society as productive members in the community. This program has instilled the values of responsibility and a strong work ethic, and I look to forward to continuing this successful initiative," Ward said.
To further minimize the impact of illegal narcotics in the community, Sheriff Ward collaborated with neighboring law enforcement agencies establishing a regional Drug Task Force. This collaboration increased the Sheriff's Office's ability to combat overdoses and drug-related crimes. This force multiplier was instrumental in the resolution of the most recent homicide case. Sheriff Ward also implemented a Drug Take Back Program which has provided the public a safe, convenient and responsible means to dispose of expired, unwanted and unused prescription medications, the news release said. The Prescription Drug Drop Box is conveniently located in the lobby of the Sheriff's Office.
"The Prescription Drug Drop Box and other proactive measures are needed to minimize accessibility to our children, recovering adults and so many of those who abuse these drugs that far too often lead to fatal overdoses and continue to cause needless tragedy," Ward said. "I support the efforts being made by our Republican state representatives to stop those responsible for distributing this poison in our communities."
Sheriff Ward enhanced the Sheriff's Office's traffic safety measures to advance highway safety by introducing the first motorcycle unit in the Botetourt Country Sheriff's Office's history, officially establishing a Traffic Safety Program, "Be Safe Botetourt."
"The Motor Unit has been a fundamental tool in providing a high-visibility law enforcement presence and deterring unsafe driving behavior on our roadways. This program will continue to play an important role in the Sheriff Office's future traffic safety initiatives to ensure the safest possible traffic environment on our community's roadways.
"With so many firsts for our county and all the innovative programs implemented by my office, I am proud they have been implemented in a fiscally responsible manner. It is important to utilize all available resources efficiently and effectively, and my office has succeeded in doing so. Through alternative funding and grants, $1.2 million of taxpayer money was saved and returned to the board during fiscal year 2022 alone," he continued.
"As your sheriff, I am proud of the professional services and accomplishments my deputies have provided the community. With your help we will continue to modernize the department while maintaining and improving upon the efficiencies and programs we have established. With surrounding localities increasing their salaries, we must remain competitive to retain and attract the most qualified law enforcement professionals to ensure the quality of life our citizens of Botetourt have come to expect," Ward said.
Sheriff Ward began his career of service in 1996 as an auxiliary deputy with the Botetourt County Sheriff's Office where he has been serving since day one of his law enforcement career for the past 27 years. "I have dedicated my adult life to serving the citizens of Botetourt County and I am asking you to join me in this continued endeavor by allowing me the privilege of serving you as your sheriff. I ask for your vote and support in my re-election campaign," Ward said.
~ Fincastle Herald staff report