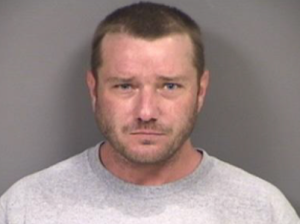 On March 9, at 4:03 p.m., Lucas Moseley, 36, was arrested in the Springwood area of the county in close proximity to the location where the original offense was first reported. Moseley was arrested unarmed and without incident by the Botetourt County Emergency Response Team.
Drone teams assisted with the search to safely contain and limit the movement of the suspect. Drones provided an aerial view locating Moseley attempting to conceal himself in dense vegetation. Officers then used images from the drones to guide units to Moseley's location, allowing them to safely take him into custody. No weapons were recovered during Moseley's arrest.
The assistance of the Virginia State Police, the Botetourt County Department of Fire and EMS, and the use of technology were instrumental in locating and effecting the arrest.
On Friday, March 3, deputies responded to the 700 block of Connect Road for an assault and battery in progress. Officers arrived to find a male subject with apparent minor injuries about the head and face. The victim declined medical attention.
Deputies identified Moseley as suspected of the assault.
Witnesses reported that Moseley fled from the scene of the assault in possession of two firearms before deputies arrived.
The following warrants were obtained for Moseley: trespassing to interfere with the property rights of another, brandishing a firearm, possession of a firearm by a felon, assault and battery, and malicious wounding.
Moseley is being held in the Botetourt-Craig Regional Jail without bond.
~ Botetourt County Sheriff's Office