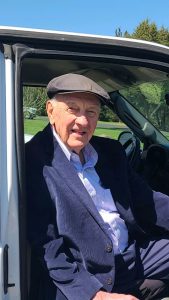 Dale N. Spickard, 80, of Daleville went to be with the Lord on Thursday, November 9, 2023 surrounded by his loving family.
Dale was born September 2, 1943 in Blue Ridge and lived in Botetourt County for all of his life. He was the son of the late Esther "Ettie" Thompson and Elmer C. Spickard, Sr. Dale was raised in Blue Ridge by his loving Aunt Carrie F. Spickard and Lois Jane Spickard.
Dale is survived by his wife and the love of his life, Sarah (Ribble) Spickard; sons and daughters-in-law, Sonny (Karen) Spickard, and Rodney (Laurie) Spickard; daughter and son–in–law, Donna Spickard (Steve) Simmons; grandchildren, Jessica (Jon) Yates, Stephanie (Josh) Mattox, Samuel Spickard, Emily (Connor) Grubbs, Nora Spickard, Erik (Martha) Wampler, and Chelsey (Jared) Craft; great-grandchildren, Lauren, Hayes, Jacob, Hadley, Miriam and Elijah.; step–grandchildren: Jason and Stephanie Simmons; brother, William Haynes Spickard; sisters, Joyce Spickard St.Clair, Peggy J. Spickard, and Nancy Spickard (Ellsworth) Clarke; sister in law, Sue Johnson Spickard, and many loving nieces and nephews.
In addition to his parents, Dale was preceded in death by his brothers, Elmer C. Spickard Jr. and Emanuel C. Spickard; sisters, Doris Spickard Chewning, Marion "Adele" Spickard Ayers, and Iris Spickard Graham; sisters-in-law, Eunice Spickard, Mary Spickard, Marie Spickard; brothers-in-law, Abbie Chewning, Tom St.Clair, Kenneth Paris, Bill Graham, Trubie Chewning, and Al Ayers.
Dale had a special connection with his family and Sarah's as well. He loved her brothers and sisters:  Johnny Ribble, Charles "Ed" Ribble, David "Pug" Ribble, Louis "Red" Ribble, Mary Ribble Tyree, their spouses and families. He was close with Dal and Jeff Spickard and their family.
Dale worked for Norfolk Southern Railroad for 38 years, retiring as a locomotive engineer. He loved the Lord Jesus Christ with all his heart and attended Fincastle Baptist Church. He enjoyed singing in the church choir at Glade Creek Lutheran Church. Dale was a proud member of "The Friends of Praise " gospel bluegrass group where he sang and often would wear the silly costume of the season.  Dale cherished his friends in the band and you could find the group bringing smiles at Bellacino's in Daleville, local nursing homes, and churches. He was a passionate sports fan and liked the New York Yankees, but he was especially a fan of his grandchildren's ball games and activities through school; faithfully cheering them on at events! Dale also enjoyed raising a garden and farming the land along Glade Creek with his brother Haynes. Dale looked forward to our summer lake trips at Bill and Sue Ward's home.
Dale was very involved in his community – he supported the Christian Soldiers Food Pantry, Roanoke Gospel Outreach and spent much time helping the homeless. He attended monthly lunches with his friends who retired from the railroad and he enjoyed having a biscuit with the gang at Hardee's. He also enjoyed the social gatherings with his neighbors in Stone Ridge and especially his daily visits with his sister Joyce. Dale was proud to be from Blue Ridge and cherished those lifelong friends.
A service celebrating Dale's life was held at 1 p.m. Tuesday November 14, 2023, with family receiving friends from 11 to 1, at Fincastle Baptist Church, 7330 Roanoke Road, Fincastle with Pastor Kevin Cummings officiating. Burial was in Glade Creek Cemetery, 3148 Webster Road, Blue Ridge.
Memorial contributions may be made to Roanoke Gospel Outreach Center, 9 Salem Ave., SW, Roanoke, 24011 or the Christian Soldiers Food Pantry, 728A Church Ave., SE, Roanoke, 24013.
Online condolences may be made to Dale's family at www.rader-funeralhome.com.