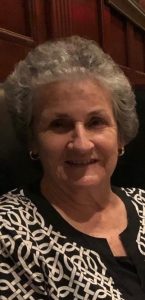 November 2, 1939 – September 27, 2023
Claudine Bryant Spradlin entered Heaven's gates on Wednesday, September 27 after a battle with dementia.
She was predeceased by her husband, Calvin D. Spradlin; son-in-law, Frank Pividal Jr.; great-granddaughter who was named after her Virginia Estelle Johnson; parents, Reuben and Blanche Bryant; brothers Maynard, Earl, Roy, Garland, and Marvin Bryant; sisters, Marie Hamblin, Christine Bryant, and Charlotte Flowers.
She was in the last graduating class of Troutville High School.  After graduation, she married the love of her life and they lived happily ever after for 56 years until his passing in 2014.  Everyone always said you never saw one without the other and rarely did anyone call one of their names without saying the other's as well.  She was known for her generous spirit, wonderful homemade cakes, meticulously manicured lawn, and a garden that provided a huge harvest every year that they would share with family, friends and neighbors.
She will be fondly remembered and greatly missed by her daughters, Trena Pividal and Traci (Matt) Clark; her grandchildren, Trey (Jaclyn) Pividal, Claudia (Chad) Johnson, and Coleman Clark; great-grandchildren who were the loves of her life, Alayna and Joanna Johnson, and Emmalyn and Calvin Pividal; dear brother-in-law, Clayton Flowers; her best friend, Deanie Jackson; and many nieces, nephews, neighbors and friends.  Special thanks to the wonderful staff with Good Samaritan Hospice, Brookdale – Roanoke Memory Care, and Carrington Place who gave her wonderful care during her last months.
The family received friends on Saturday, September 30 from 4 to 8 p.m.  Funeral service were at 2 p.m. on Sunday, October 1 at Oakey's North Chapel with a private burial at Cedar Lawn Memorial Park at 3 p.m. Monday, October 2.