Maggie Stickler, 21, of Botetourt County, passed away.
Maggie was born in Morristown, New Jersey January 12, 2001 and lived in Botetourt since 2005. She was the daughter of the late Benjamin N. Stickler and Mary A. Melvin Stickler who survives.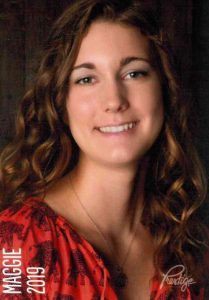 Maggie was a 2019 graduate of Lord Botetourt High School. She enjoyed playing soccer in high school, loved all animals, working out in the gym, and was a member of Church of the Transfiguration. Maggie was always full of life and was always one to "live on the edge."
In addition to her father, Maggie was preceded in death by her grandparents, LaVerne Stickler, and Henry and Margaret Melvin; uncles: Henry Melvin, Jr., and Christopher Stickler.
In addition to her mother Mary, Maggie is survived by her brothers, Benjamin (Hillary) Stickler of The United States Navy, Daniel Stickler of Brooklyn, New York, Noah Stickler of Daleville, and Ethan Stickler of Washington, D.C.; grandfather, David Stickler of Brooklyn, New York; uncles and aunts, Jim Stickler of New York, Cynthia Stickler of Brooklyn, New York, Maureen DiGiaimo of Freehold, New Jersey, and Bridget Melvin of Roanoke; and one niece, Carmen Stickler.
A funeral mass to celebrate and honor Maggie's life will be held at noon Saturday, September 2 at Church of the Transfiguration, 7624 Roanoke Road, Fincastle with the Rev. Fr. Paul Lagco officiating. A private burial will take place later. Maggie's family will receive friends 6-8 p.m. Friday, September 1 at Rader Funeral Home, 630 Roanoke Road, Daleville.
In lieu of flowers, memorial contributions may be made to Adult and Teen Challenge, Eastern Appalachian Region, P.O. Box 19385, Roanoke, 24019; or to League for Animal Protection, P.O. Box 561, Fincastle, 24090.
Online condolences may be offered to Maggie's family at www.rader-funeralhome.com/tributes/Maggie-Stickler.